World Lupus Day
According to the Lupus Foundation of America, 5 million people worldwide have a form of lupus, including 1.5 million Americans. Yet despite those numbers, 73% of Americans ages 18–34 either haven't heard about lupus or know little or nothing about lupus beyond the name. It's that lack of awareness of this widespread disease that World Lupus Day, commemorated on May 10, seeks to combat. Here are some organizations seeking to bring comfort to those suffering from it:
San Jose, Calif.
The Lupus Foundation of Northern California's goal is to be a premier source of information on lupus by providing programs and services designated to educate and increase the knowledge of those affected by lupus, promote lupus awareness, and support external lupus research efforts.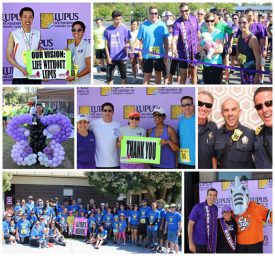 "The Lupus Foundation of Northern California is a great nonprofit organization! My cousin has had lupus for more than 20 years and this organization has helped her tremendously over the years. This nonprofit helps people in need, they raise money for research, and they raise awareness about lupus. This organization has also given my cousin a new purpose in life by giving her a job opportunity to work for the organization. I am extremely grateful to them for all they do to help my cousin and the community."
New York, N.Y.
The mission of the Lupus Research Alliance is to prevent, treat, and cure Systemic Lupus Erythematosus through medical research.

"I have had lupus for more than 30 years and started as a volunteer with the ALR Central New Jersey in 2009 where I met many new people in the lupus community. 
"The first thing that impressed me about the organization was the fact that 100% of the donations are strictly to fund initiatives that hopefully will take us one step closer to helping find a cure for lupus. The more people know about lupus, the better support there will be for those living with the disease and the sooner we can conquer it.
"Throughout the years, many family members and friends have been diagnosed with lupus and because of my experience with ALR, I introduced them to the website that is very informative. Thank God for ALR."
Columbia, S.C.
Skip to My Lupus' mission is to provide comprehensive support services that educate, raise awareness, and enhance the quality of life for people affected by lupus and other autoimmune disorders, caregivers, and families.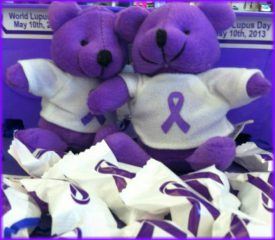 "I am impressed with the passion and determination that the founder and volunteers of this organization have displayed. It is easy to feel sorry for oneself when adversities are great, but in this case, the desire to make a difference has overcome the adversity. I think the perseverance displayed by the members of this organization are extremely encouraging to those who suffer from the illness. The activities, educational information, and compassion provided to lupus battlers has made a difference in many lives. I am glad to know that there is positive support for overcoming this illness. I am glad that Skip to my Lupus is making a major impact in the fight against lupus. Through online counseling, over-the-phone counseling, company-sponsored events, or just a hug and a smile, Skip to my Lupus has made a positive impact on many lives. God has used this organization to show the power of love and compassion."
To learn more about these and other organizations providing support for people suffering from lupus, check out GreatNonprofits.