Top 10 Volunteer Opportunities in Atlanta in 2019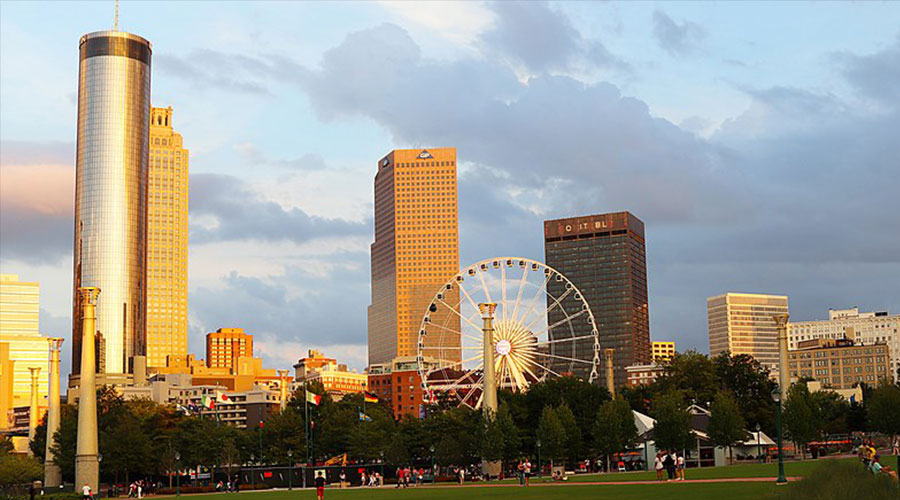 Want to volunteer or intern at a great Atlanta nonprofit? Whether you're new to the city and want to learn about its charities, trying to change up your routine with some local charity work, or just want to volunteer or intern at a neighborhood nonprofit, everyone knows that the best way to find the right place for you is from the people who've been there!
Here's a list of volunteers' and interns' favorite Atlanta charities. Every nonprofit on this list has earned an overall score of 4 or greater out of 5 on GreatNonprofits.org. If your favorite Atlanta nonprofit or volunteer gig is missing, find it on GreatNonprofits.org, write a positive review, and show your co-volunteers how to start adding reviews and get it on the list!
"Upon learning I had to travel more than 600 miles from my home to receive cancer treatment weekly, the thought of driving was exhausting on top of me not feeling well. A nurse told me about Angel Flight. It has made the commute to and from treatment much easier on me and my family. Fighting cancer is hard enough, add travel to the mix and it is exhausting. So thankful for Angel Flight and all the pilots giving of their time. Because of you, I can get to and from treatment and return home to my family." –VIPlucky13
"AIR International is unique in its holistic approach to assisting indigenous Guatemalan Mayan villagers. I especially appreciate the focus on empowering villagers to create seed nurseries and on assisting them in making their environment more sustainable and more healthy. The planting of trees, the building of stoves, and the education provided accomplish many objectives: elimination of mudslides that devastate villages by the planting of trees in vulnerable and remote areas; building stoves that use 50 percent less firewood and protect the health through proper venting; commitment to future by providing curriculum and technical education in more than 200 schools; scholarships for outstanding students. Volunteering with AIR is a unique life experience that brings you into the villages and homes of Mayan families, sharing meals, culture, and goodwill." –Skosmas
"Apfed helps support families and patients living with eosinophilic disorders in many ways. They provide education through yearly conferences for families and for health care providers. They help raise awareness through education for physicians as well as patients and their families. In addition, they are supporting researchers, as well as encouraging young researchers to become involved in finding new and innovative ways to further research for eosinophilic disorders." –Apfedsupporter
"The joy of working with children at the family homeless shelters where drawchange operates is a feeling that money can't buy. The huge smile on the kids' faces from getting a rewarding experience with being able to learn and participate in many creative activities, with free expression of oneself, is priceless!!!" –Findlay8
"SafeRide America is a wonderful organization with an even better cause. Courteous and professional drivers take you and your car home safely. They have no doubt made the streets in and around Atlanta much safer by getting impaired drivers off the road and home safely. Thank you SafeRide!!!" –Allen B.
"Pro Bono Partnership makes it easy for in-house lawyers in particular to find projects that fit within their practice area and schedule. They do an amazing job of vetting clients to ensure well-defined and meaningful projects, so both the clients and volunteer lawyer are well prepared for the task at hand. There are always a wide variety of matters to choose from, allowing you to give as much time as you want or as little time as you have. Their lawyers and staff support you along the way with their own time and resources to ensure the project is a success. Through volunteering with PBPA over the years, I have also increased my awareness about many local nonprofits with inspirational missions making big differences in our community." –tbslawyer
"I have been a volunteer with this organization and have seen firsthand the positive impact LHTYF has had in the Atlanta area with children who need to develop healthy lifestyle habits. It is very fulfilling to volunteer for an organization that values the future well being of our youth. Obesity and diabetes are real issues that this organization is trying to address to help our children." –Candace H.
"I've volunteered with Enchanted Closet for the past several years. I've served as a personal shopper for the prom dress giveaway, and I've been a workshop presenter as well.
"I am not sure who is happier at the giveaway — the teens or me! It brings me so much joy to see the smiles on their faces when we find the perfect prom dress for the young ladies. No young girl should miss her prom simply because of economics. Enchanted Closet provides an opportunity where there may not have been one.
"But, it doesn't stop there. Enchanted Closet is interested in making the young ladies over, not just on the outside. The workshops provided by this great organization expose the young ladies to information about how to not become victims of exploitation, on etiquette, and college prep. The diversity of the workshops speaks to their concern about ensuring that every young lady is exposed to positive and life-changing messages.
"With Enchanted Closet, dreams do really come true!" –Sonja 3
"This is easily, with no questions asked, one of my favorite charities to have ever been founded. Triple Play achieves so much, for so many of the local at-risk youth in terms of promoting health, education, and community awareness with the focus solely being on the hands of those most in need. By leveraging the power and reach of athletics/sports, TPF does everything in their ability to help, assist, and change the lives of the local children in the Athens and Atlanta areas." –Daniel F.2