Top 10 Top-Rated Nonprofits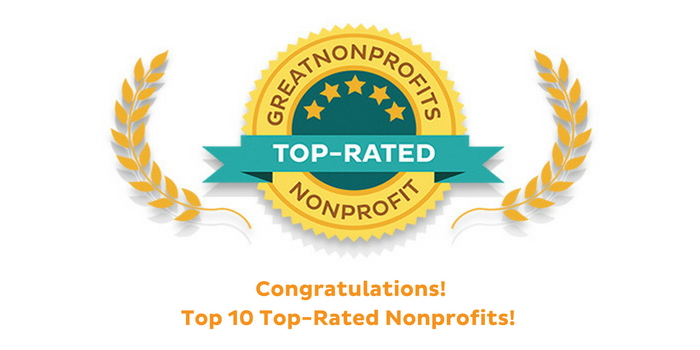 Every year, GreatNonprofits highlights the work of outstanding charities that are going above and beyond to provide vital, life-changing services to their communities. The 2016 Top-Rated Awards feature nonprofits that have received the highest scores from the people who work directly with them—volunteers, donors, and clients served. The awards honor charities from cities all over the world working to improve lives by addressing issues in 40+ different categories.
Among the hundreds of nonprofits honored this year, 10 charities stand out for receiving the most positive feedback. These are our top 10 top-rated charities:
Veteran Tickets Foundation in Tempe, Ariz.
With 2,020 reviews, the Veteran Tickets Foundation has received more feedback than any other top-rated nonprofit on our site. The Arizona-based veteran's charity provides free tickets to sporting events, concerts, and family events to service members and former members of the armed forces.
Erowid Center in Grass Valley, Calif.
The Erowid Center is dedicated to providing objective, accurate, and nonjudgemental information about plants, chemicals, and other substances that humans ingest or come in contact with in medical or everyday contexts. Their goal is to put together as objective a database as possible about a variety of products and substances, compiling information from scientists, medical and legal experts, and other academic authorities.
Center for Biological Diversity in Tucson, Ariz.
The Center for Biological Diversity is committed to securing the future of all living species by supporting scientific research, policies that protect threatened species, legal efforts to prevent the destruction of wildlife, and media campaigns that raise awareness. LA Weekly has described the environmental nonprofit as "pound for pound, dollar for dollar, the most effective conservation organization in the country."
Bikers Against Drunk Drivers in Ormond Beach, Fla.
Bikers Against Drunk Drivers is a nonprofit that seeks to spread awareness about the dangers of drunk driving and the potentially lethal consequences it can have for drivers, passengers, pedestrians, and bikers. They set up displays in high traffic areas, conduct social media campaigns, and hold rallies to increase visibility.
Soldiers' Angels in San Antonio
Volunteers "adopt" members of the armed forces and help ease the burdens of deployment through individualized assistance; if a soldier wants a phone card to call members of their family, needs help financially, or has other urgent needs, the nonprofit does its best to accommodate them. It also provides homemade treats, handmade gifts, and other gestures of appreciation.
Multidisciplinary Association for Psychedelic Studies in Santa Cruz, Calif.
This California-based nonprofit is committed to promoting the careful medical use of psychedelics and marijuana through research, the development of prescription medicines, the  training of therapists to monitor the use of these substances, and the establishment of a network of treatment centers.
Charity Cars in Longwood, Fla.
Charity Cars provides free donated vehicles to struggling families to help them reach self-sufficiency. Their goal is to provide a reliable mode of transportation to a variety of recipients in need, including domestic violence survivors, families in the midst of a medical crisis, victims of natural disasters, families transitioning back to employment, people living in shelters, the working poor, nonprofits, and military families. Since it was established in 1996, the nonprofit has donated more than 4,500 cars.
Global Village Champions Foundation in Sarasota, Fla.
Global Village is committed to providing nutrition all over the world to as many hungry people as possible. Since it was established 20 years ago, the foundation has provided more than 900 million meals to people in need, along with basic necessities to children in extreme poverty.
Blind Cat Rescue and Sanctuary in St. Pauls, N.C.
The Blind Cat Rescue and Sanctuary focuses on saving the lives of cats that would be put to death because they are blind, leukemia-positive, or FIV-positive. It educates the public about cats with these health issues and sponsors spay and neuter programs that benefit hundreds of cats per year.
Youthlinc in Salt Lake City
Youthlinc is a program that fosters humanitarian principles in young people through mentoring, refugee programs, humanitarian awards, and service directories that put kids in touch with nearby organizations. Every year, Youthlinc participants contribute more than 15,000 hours of service to organizations in their home state of Utah and raise nearly $400,000 to donate to worthy programs abroad.
These inspiring organizations are addressing a wide range of social issues in order to make the world a better place. Consider sharing this page on your social networks to raise awareness of their important work, and if you feel motivated to take action, peruse our 2016 Top-Rated Charities page to discover organizations that are addressing causes you care about or serving your local community. GreatNonprofits compiles information on nonprofits near you, so you can feel confident donating your time or money to ones that will use it well.