Summer Meals for Kids in Need
In a recent blog post, the U.S. Department of Agriculture stated that more than 21 million American children and teens depend on free or reduced-price school meals during the school year. When school cafeterias close, many of these kids are at risk of going hungry.
The USDA has stepped up to expand its summer food program. And a number of organizations are pitching in with special programs during the long, hot summer.
Check out these groups around the country that fill in the gap.
YMCA (locations in many states)
As part of its commitment to keeping kids healthy, the "Y" and the Walmart Foundation are partnering to provide 4.7 million meals and snacks to 200,000 kids and teens at 2,300 locations in communities throughout the nation this summer. Kids from ages 5-18 can participate in the program, which provides nutritious meals and snacks as well as activities to keep their bodies and minds active.
Go to the "Y" website and enter your city, state, or zip code to see if your neighborhood "Y" sponsors a summer food program.
It's surprising to learn that so many kids go hungry in the heart of Silicon Valley:
Second Harvest distributes food weekly to 1,689 children at 19 sites throughout the two counties.
A survey (taken in 2010) revealed that 82% of the children shared the food with three or more people in their household.
72% of the children surveyed stated that they do not always have enough food to eat.
Second Harvest's Kids NOW Program provides free, nutritious, and easy-to-prepare food for kids to take home on weekends and over school vacations when free or reduced-cost school lunches are not available.
Top-rated by GreatNonprofits in 2014, Second Harvest currently delivers food every week throughout the year as long as the partner site is open. Partner agencies include Boys & Girls Clubs, the YMCA of Silicon Valley, Project We Hope, and Bayshore Child Care Services.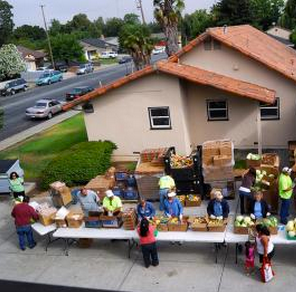 Many food banks face the "summer squeeze," when donations drop over the summer months, but demand for food assistance rises dramatically. In San Diego County, 230,000 low-income school kids who normally receive free or low-cost breakfast and lunch at school, risk going hungry.
Once again, the Food Bank, with Vons and Albertsons, is hosting a summer food drive. Shoppers at these supermarkets in San Diego County can purchase a pre-filled $5 bag containing the items families need most.
In addition to donating at Vons and Albertsons, check out other ways you can help the Food Bank this summer:
Host a food drive at your business, civic group, or religious organization.
Donate money securely via the Food Bank's website. Every $1 donated provides 5 meals to hungry San Diegans.
Volunteer at the Food Bank's warehouse
Host a Virtual Food Drive online via the Food Bank's website
Top-rated by GreatNonprofits in 2013, The Food Finders Summer Food Service Program began in the summer of 2010 with four sites in Lafayette and Benton counties.
This summer, they plan to serve lunches each day at 25 sites across 6 counties. In addition, they are providing classes on meal preparation, healthy food choices, and kid-friendly food options.
Volunteers at area churches, libraries, apartment buildings, and schools organize food distribution. In addition to lunches, take home items such as fresh fruit, vegetables, and pantry staples are often provided. Most sites also host fun recreational activities for the kids.
As one client said: It has been a great resource for our family and a godsend when we are struggling. Not only do they have food but often we get special treats that make life better.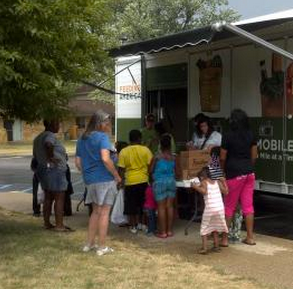 This summer, in addition to planning your vacation and activities with the kids, why not add making a donation to local food bank or, better yet, spending a few hours volunteering! Hunger will never stop unless we all pitch in.