Storytelling for Good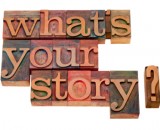 Ever been caught up in a friend's personal story? Frequently, we come across moving personal accounts of nonprofits literally changing lives. Here is a recent review from a client of CHERUBS (The Association of Congenital Diaphragmatic Hernia Research):
I was only 10yrs old when I first learned about CDH. My family was super excited about another baby coming into our family. I was hoping for another sister and my brother was hoping for a brother. I knew something was wrong, when the tech ask my dad to take us out of the room. I had no idea what to think. What seemed like a life time, was only a few minutes. My dad came and brought us back. Mom was crying and now the doctor was in there. The first thing they told us, was it was a girl. I was so excited. But I knew there was a long pause and when my parents did that there was something bad coming. All I recall was that the baby would need a lot of work. I told the doctor I would help and do as much as I could. He smiled and just shook his head.
During the rest of my mom's pregnancy, I would help her find information on what CDH was. Before my mom was to deliver, I got to tour the NICU. This was not exactly where I was hoping my baby sister would have to come to. But the place was filled with nurses that understood exactly what these special babies needed. My parents told them that they got their information from CHERUBS. The nurses all smiled and said that thet was the best source of information. My mom delivered my sister, Allison Faith, I got to see her hooked to machines, and even though she would fight a good fight, I stood in that NICU, and knew that CDH needed more awareness. From that day since, I decided that I want to be a NICU nurse. I will be a walking talking billboard, for CHERUBS. I plan on even doing a project in school to raise awareness for CDH. CHERUBS helped my family and I plan on paying it forward. Thank you CHERUBS for helping this family." 
Let the power of your volunteers' and clients' stories captivate potential clients, donors and volunteers–ask them to review you on GreatNonprofits.org. Sharing a personal story shows readers that your organization really has an impact.