Starting to Recover: "I'm so glad to be alive"
It's been more than a month since the tragedy occurred, and relief efforts are still taking place. Immediate relief efforts are starting to transition into ones that are aimed at recovery. I'll introduce some here.
ADRA
ADRA, which was initially providing hot food and supplies to those affected, started to help facilities clean up the mud and debris that the tsunami brought in. The mud needs to be cleared up as soon as possible to ensure that the unsanitary gunk that is in the sludge will not ruin the facility.
On April 12th, they cleaned up 2 rooms and the kitchen of a nursing home in the area. This process is very physically demanding, as the mud is sticky and cannot be washed away simply with water. The volunteers had to first move out all of the furniture, then shovel out the dirt with small shovels for hours before they could hose the facility down.
Inside the furniture covered with mud, there are many memories of those who lived there. Clearing this out means getting rid of all of their cherished memorabilia, including casette tapes with their favorite songs, books that they have read multiple times,  souvenirs  from vacation spots. The person who lived in this room said "Before, I could not even touch these things even if people came to help clean up. It's hard to have the resolve to throw away these things." The volunteers could not offer any words, but spent their time meticulously cleaning up the room to the best of their abilities. By the time they finished cleaning, the resident thanked them by saying "Thank you. It's very clean now. I have to keep my head up from now on, don't I?" The volunteers were touched at the person's strength to go on despite the severity of the disaster.
(Picture and post from their blog)
Civic Force
Civic recently made a youtube account where you can check out the situation of volunteering that's happening over there.
So far, they've compiled donations from 85 companies and passed out 209 tons worth of supplies. They recently set up a regular truck shipment to Kesen-numa city, sending 10 4-ton truck filled with supplies everyday.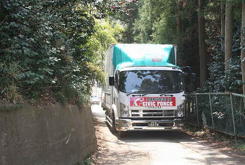 Civic Force is trying to target smaller shelters that do not receive regular shipments from large organizations; recently, they found a shelter providing assistance to around 300 people that only receives shipments of supplies once every 3 days. Furthermore, the elderly often cannot make the long trek to other supply storage facilities, so this location is their only source of food and other necessities.
Civic Force has received much praise for their quick delivery of necessary goods. At Minami Sanriku-city, some people shed tears at receiving canned tuna, as it reminded them of the tuna that they used to fish in their ports. "I'm truly shedding tears, I'm so glad to be alive" they said, as the truck drivers helping with delivery of the supplies told us "I'm glad I am doing this job".
(Picture and post from their website)
Peace Winds Japan
Staying in a shelter for weeks is emotionally exhausting, especially for children who just want to go outside and play with their friends. After hearing these things, Peace Winds Japan wanted to provide the children in these areas with happiness, so they got Studio Ghibli (the studio that made Totoro, Spirited Away, etc.) to provide them with DVDs of their movies along with screening devices.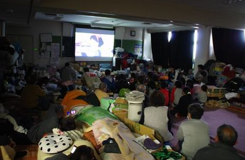 When the movies were shown on the screen, the children sitting in front and adults resting on the blankets gave cheers as they watched the movies (Totoro and Kiki's Delivery Service) in earnest.
(Pictures and post from their site)
That's all for now; as you can see, the recovery efforts are slowly transitioning from relief to recovery oriented actions. Please keep donating to help Japan!