Start Earning Your 2017 Top-Rated Badge Today!
According to a study, the GreatNonprofits seal is the second most trusted ratings seal, after only the Better Business Bureau. In addition, 72 percent of people say that the presence of a badge increases their likelihood of giving.
And more donations mean that you'll be able to continue and expand the scope of the great work that you do. With the looming uncertainty of the next administration, attracting as many donations as possible may be more important than ever before. So, what are you waiting for?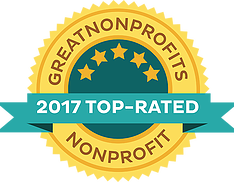 More than 1,700 nonprofits earned Top-Rated status from GreatNonprofits in 2016. Was yours one of them? If so, you may already know the benefits. In addition to receiving 2017 Top-Rated Badge, certificate, and press kit and marketing materials, you will be:
listed on our 2017 Top-Rated Leaderboard and 2017 #GivingTuesday Guide
promoted via social media, public relations, and via the Huffington Post and other mediums
mentioned by our sponsors and partners, and receive special designation on our site
The 2017 campaign has already started—it began on New Year's Day and runs until Oct. 31, so there's no time like the present to get started. But if you didn't make the 2016 list (or did, and simply need a quick refresher), here's how to qualify:
Claim (or log in to) your nonprofit
Invite clients, donors, and volunteers to share their story
Get 10 or more positive stories (4- or 5-star rating) within the campaign period
Qualified organizations will be notified on a monthly basis starting in April and instantly get listed on the leaderboard.
Your nonprofit has provided both the tools and inspiration that have helped people change their lives for the better, and it's time for everyone to know about it! Get started on gaining Top-Rated status today!