National Teacher Appreciation Day
According to Money magazine, teachers on average spend roughly $500 of their own money a year on school supplies. And for one in 10, that total rises to $1,000 or more. And that is just one of the many reasons why on Tuesday, May 9 we celebrate National Teacher Appreciation Day.
And what better way to show teachers how much we appreciate them than by making a classroom donation, either by volunteering our time or purchasing supplies. There are also many nonprofits out there showing their appreciation for our nations' educators by filling the gaps left by budget constraints. Here are just a few of them: 
Palo Alto, Calif.
The East Palo Alto Kids Foundation's mission is to promote educational opportunities and academic success for East Palo Alto children by providing micro-grants to teachers and schools for materials and activities that would not otherwise be available to children living within the community served by the Ravenswood City School District.
"At our school we have a limited fund for supplies in our classrooms. This grant has allowed me to get different chemicals, dissection equipment, and animals for dissection. This has given students the opportunity to learn science in a hands on and authentic way. Every year students look forward to dissecting in my class, without this grant it would not be possible.
"As an educator, micro-grants are an essential tool for me to teach at my finest. Without these grants I would not have the resources to give my students the education they deserve. Teachers always want to give more to their students and only so much of that can come out of our own pay check. If we did not have these funds I would not be able to use my own money for all the projects I have been able to do.
"Overall, this grant helps with a wide variety of teacher needs! It is the best grant I have applied for because of the streamlined application and ease of using the check and returning receipts."
Dayton, Ohio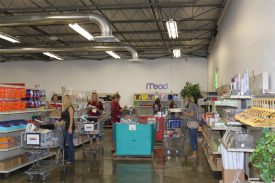 Crayons to Classrooms secures and distributes school supplies at no cost to teachers of students in need. Since opening to eight pilot schools in January 2009 through February 2017, it has distributed more than $12.2 million in supplies during 13,730 teacher shopping visits to teachers from 90 schools.
"I have been to other organizations like this in the past, and this is by far the best one I have been to. Almost all of the supplies were new, very clearly labeled, and it's an easy system to figure out. As a teacher at a low-income district where all students receive free lunch, I am so grateful to be able to find free supplies for my students. They don't just have basic supplies like pencils and paper; they have binders, bookbags, resources for teachers, and so much more. I was super impressed and will definitely continue to go once a semester!"
San Jose, Calif.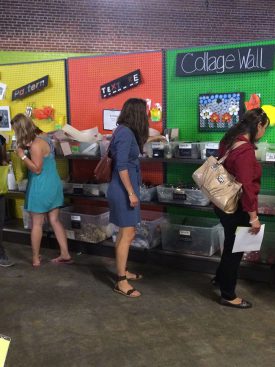 RAFT transforms surplus materials donated by local businesses into interactive learning experiences for students in math, science, technology, and art, providing teachers and community groups with creative tools to enhance education and promote hands-on learning.
"I am a teacher who is a dreamer, a scientist, an environmentalist, an artist, a sticker collector, a book lover, etc. When I first stepped into RAFT when it was in its infancy, it was like walking into Willy Wonka's Chocolate Factory! It has since changed the way I have taught all of the grades I have taught—preschool to sixth grade. Their workshops are hands-on, friendly, and a bargain (they give you tons of materials when you leave any workshop). On top of it all, I can't believe Mary Simon is working at the San Jose store, ready to help you understand the materials better. She, to me, is a hero and a celebrity for thinking up such a wonderful way to recycle products from companies. I think RAFT should expand all around the world. I would love to see it happen."
Menlo Park, Calif.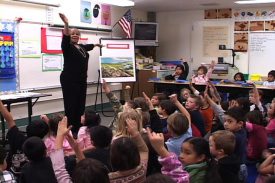 Reaching more than 70,000 students and training nearly 6,000 teachers in 500 schools and organizations nationwide to teach its curriculum, Art in Action enriches children's education through innovative visual arts programs.
"California Schools provide a completely barebones curriculum not including art education. When I found that Art in Action provides an excellent and appropriate art education in the classroom I hastened to become involved. Art in Action trains volunteers to use their highly appropriate and professional materials to open the world of possibility through understanding art. These classes are grade level appropriate and are a hands-on experience as well as having an intellectual component. The children are completely engaged and a vitality is obvious in the classrooms. The nonprofit Art in Action not only provides this essential experience for children, but it raises the funds necessary to provide this experience. Art in Action currently reaches 27,000 students and is growing each year."
To learn more about these and other organizations that make sure teachers have the support they need, check out GreatNonprofits!