National Public Gardens Day
Created in 2008 by the American Public Gardens Association and celebrated on the Friday before Mother's Day, National Public Gardens Day seeks to raise awareness of public gardens and the important role they play in their communities and on a global scale.
Many public gardens nationwide celebrate the day with special events, so make sure you get out there and visit one on Friday! Here are just a few of them:
Pittsburgh, Pa.
The mission of the Phipps Conservatory and Botanical Gardens is to inspire and educate all with the beauty and importance of plants; to advance sustainability and promote human and environmental well-being through action and research; and to celebrate its historic glasshouse.
"Phipps Conservatory has become a haven for me over the years I have lived in Pittsburgh. It's always a peaceful and welcoming place, and the care and appreciation its wide variety of plants receive daily from staff and volunteers seem to permeate the atmosphere.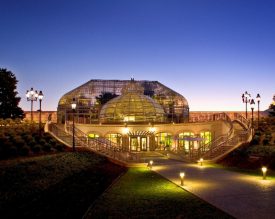 "No matter how stressful or sad a mood I'm in, Phipps never fails to put a smile on my face and lift my spirits, especially during the dark, cold days of winter. The Orchid Room has colorful surprises lurking in every unexpected corner; the changing displays of the Serpentine Room and the Sunken Garden are always both inspired and inspiring; the outdoor kids garden provides family fun (and education!) spring through autumn; and the Tropical Forest, Phipps' newest edition, includes fascinating exhibits on Tibetan and Amazonian culture and the work done by researches on the biological and social systems to be found there. (And, the Phipps Café features delicious food made from local and/or organic ingredients for a very reasonable price! Plus fantastic desserts!)"
San Antonio, Texas
The San Antonio Botanical Garden Society's mission is to inspire people to connect with the plant world and understand the importance of plants in our lives.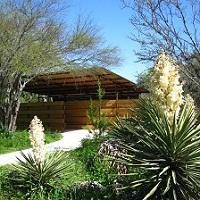 "I love the Botanical Garden for so many reasons. I love the memories I have of taking my oldest grandson there for the first time when he was almost too small to fit in the stroller. That was the first of many visits to the garden for both of us. Today he is 12 years old and knows every inch of the garden very well. He is also a veteran of the Children's Garden program.
 "I love coming in each season and seeing how the garden changes. In the winter it is sleeping, but still alive. In the spring it is just bursting forth with the wildflowers and new plants. Summer may be hot, but there is always a shady place to sit and reflect. The fall usually brings fun things to do and the scarecrows always appear right on time. I have photographed each season so many times and delight in each visit.
 "The Carriage House is a feature that always intrigues me—I can just see those big carriage horses coming out the door pulling an elegant carriage. And, sometimes when I eat in the little restaurant and sit in one of the former horse stalls I almost hear them stomping their feet and whinny for their meal.
"There are so many good things I could share about the garden in addition to my own memories and delightful visits. The best way to sum it up is simply to say that truly the Botanical Garden is one of San Antonio's treasures and it's the best value in town!"
Valparaiso, Ind.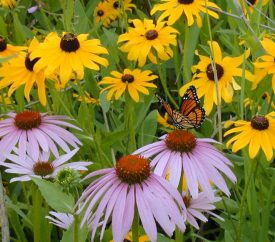 Taltree Arboretum & Gardens establishes and preserves gardens, natural areas, and woody plant collections for education, enjoyment, and inspiration.
"I recently discovered Taltree, and have found a place that I can escape to from the busy world. Having green space in NW Indiana is very important to my family and me, and having been an Indiana resident for several years now, it is nice to see local organizations striving to conserve the land around them. I lead hikes on occasion and cannot wait until spring when the wildflowers come back. If you get a chance, go hike the Bluebird Trail and stop at the Savanna Wetland. There are two swans there. If you do not have much time, the train garden is a must-see. You will feel like a kid again :)."
To learn more about these botanical gardens and others like them, check out GreatNonprofits.