National Help a Horse Day
April 26 marks the fifth annual Help a Horse Day. According to the ASPCA, it's a day for equine rescues and sanctuaries to raise awareness about the lifesaving work they do year-round to care for at-risk horses in their community who have often been abused or neglected.
The organization also notes that horses have been central to the ASPCA's work since its founding 150 years ago, when Henry Bergh stopped a cart driver from beating his horse, resulting in the first successful arrest for the mistreatment of a horse on April 26, 1866.
Here are five of our top-rated nonprofits dedicated to the well-being of horses:
Riverview, Fla.
RVR Horse Rescue is a horse rescue facility dedicated to saving and rehabilitating horses. It is not a sanctuary, but rather a home for the rescued to build their minds, bodies, and souls to allow them to move on and find a forever home through its adoption program.
"In 2009 my husband lost his battle with cancer. I was lost. Several years later I found RVR Horse Rescue in Riverview, Florida. I have always loved horses, showed hunter/jumpers as a high school student, then got them again after I was married, so this seemed like a great fit for me. Little did I know how great it would be. I was amazed at the care and love all the volunteers had for these horses who found themselves in horrendous circumstances due to no fault of their own. About a month after I started there, they took in six horses from another 'rescue.' All were in horrible shape. One horse in particular was also very traumatized and had had several of his front teeth knocked out. I was able to make a connection with him, and several months later adopted him. I have seen so many stories like mine, both people and horses coming out of bad situations and learning the thrive again. RVR puts the horses first, but in doing so, helps people too. It is just such a great place with wonderful, caring volunteers."
Cumming, Ga.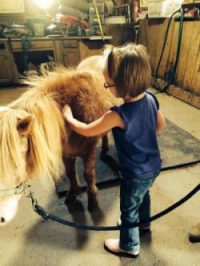 The mission of Save the Horses is to improve the quality of life for all horses, thereby improving the lives of people through their bond with the horses. It is committed to the rescue and rehabilitation of equines suffering from abuse, as well as the successful retirement of working equines.
"How to explain about a place that saves lives and can steal your heart. Save the Horses literally saves lives, animal and human. As a volunteer, adopter and foster for five years, this rescue truly rescues. It has helped me to relearn a lot of my horse knowledge and to know that I am doing my part in helping to save lives. We have seen so many positive outcomes for animals and humans. It is therapy to volunteer at Save the Horses."
Morriston, Fla.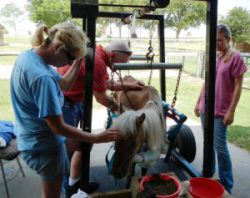 Since 2006, Beauty's Haven Farm & Equine Rescue has worked to rescue, rehabilitate, and re-home equine in need; to educate the public about proper horse care; to provide information regarding the steps that must be taken when one encounters an equine that is being abused or neglected; to provide assistance (when possible) to horse owners experiencing a short period of financial hardship; and to help humans through helping horses.
"I first became involved with Beauty's Haven more than eight years ago when I first visited with a friend from Ocala who was a volunteer. I fell in love with huge draft named Gentleman and was blessed to be able to share time with him and all the other equines who have become part of the BHFER. I still travel down to visit when I can and help sponsor the work at the farm. It truly is a place where miracles happen and the needs of each animal at the rescue are always met. The love and respect they receive is immeasurable."
Brodnax, Va.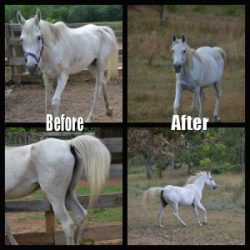 Central Virginia Horse Rescue's mission is to save, protect, and rehabilitate equines in need. It rescues unwanted, abused, neglected, or abandoned equines; provides them with care and rehabilitation; and finds them a compatible, loving home. It believes that education is the long-term solution to improving the lives of equines.
"I have spent a lifetime around horses, and well understand the realities of surplus unwanted horses and marginally qualified owners who make poor choices and can no longer care for their charges. I have witnessed many well-intentioned folks try to 'rescue' horses and end up in unsustainable situations that further hurt the horses. These life experiences have made my interactions with CVHR all the more remarkable. What Cindy Smith, her volunteers, and supporters have accomplished is to build a professional, sustainable, and effective rescue network here in Virginia. The CVHR professionalism and knowledge into the ways of business and horses is exceeded only by their passion and boundless energy to serve those horses that are most at risk. I am blessed to have found CVHR, and my life is richer for having adopted one of their wonderful rescues several years back."
Snowflake, Ariz.
Equine Wellbeing Rescue provides loving rehabilitation, nursing, and hospice care for equine with medical needs and finding homes or sanctuary for others at risk.
"Christine Griffin has a persistent passion for the horses that have been left for dead. She has committed her life to this and has done an amazing job loving and rehabilitating the debilitated and abused. I have witnessed many equine rescues that mean well but cannot deliver. Running a rescue becomes your life 24/7 and can be a heart-wrenching journey of loss. Christine has managed to respect these animals and not try to gain unjustly. The animals who have suffered for too long finally find comfort and peace in their end days at Equine WellBeing. To me that is a bittersweet sort of beautiful. Thank you Christine." 
To learn more about these organizations and many others just like them, check out GreatNonprofits!