National Bike Month
For more than 60 years, National Bike Month has celebrated the many benefits of biking, from preserving both your health and your environment to saving you both time and money. Perhaps the biggest day of the month-long festivities is Bike to Work Day, held this Friday, May 19.
According to the League of American Bicyclists, sponsor of National Bike Month, 40% of all trips in the U.S. are less than two miles, which means participating this Friday will be easy for many of us. And many of us do participate­—the league says that from 2000 to 2013, the number of bicycle commuters in the U.S. grew by more than 62 percent.
But the joys of biking need not be limited to a single day, or even a month. It's an activity we can enjoy year-round, and here are a few of the nonprofits that are working to make that possible for everyone:
San Francisco, Calif.
The mission of the San Francisco Bicycle Coalition is to transform San Francisco's streets and neighborhoods into more livable and safe places by promoting the bicycle for everyday transportation.
"The San Francisco Bicycle Coalition has had a huge impact on life in San Francisco—and not just for cyclists. The Coalition has helped the city (and, working with other bike advocacy groups in the area) the larger Bay Area region develop a coherent plan for bicycles.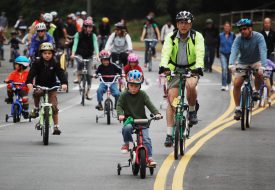 "In some neighborhoods—like mine, along Valencia Street—new bike lanes have been a core part of traffic calming that has revitalized the area for residents, merchants, and pedestrians, as well as cyclists. I've been a member for a few years—I joined not long after I moved to San Francisco. I found out about the Bike Coalition when there was a street fair in my neighborhood and the Bike Coalition provided free, secure valet parking for bicycles. I began to see SFBC stickers on bikes everywhere.
"Mostly, I am just a dues-paying member who enjoys a 10% SFBC membership discount at my local bike shop, but recently I've started volunteering as a "Lane Steward." The Lane Stewards work with the Department of Public Works to identify road hazards in bike lanes and along bike routes. Thanks to an excellent relationship between the Bike Coalition staff and the city government, the hazards we identify are almost always fixed very quickly. I'm very proud of the difference we've made—I often bore my friends by pointing out the repaired potholes that I had a hand in."
Philadelphia, Pa.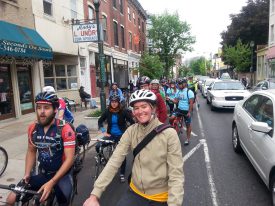 Neighborhood Bike Works provides educational, recreational, and career-building opportunities for urban youth in underserved neighborhoods in greater Philadelphia through bicycling; it also promotes cycling as a healthy, affordable, environment-friendly form of transportation.
"I worked at Bike Works for three years and it was a fantastical experience. I came into Bike Works with a love of recycling and bike repair and left with a mission to empower and educate the youth of Philadelphia through hands-on learning. I now work for the Philadelphia School District as a math teacher. Bike Works was the springboard to my job with the district! Not a day goes by that I don't thank my lucky starts that I had the blessing to work for NBW and all their glory! Thanks NBW!"
San Rafael, Calif.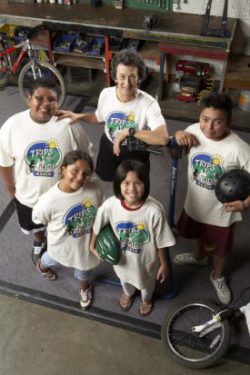 For more than 30 years, Trips for Kids has provided mountain biking outings and environmental education for inter-city youth.
"We have had many successful rides with the Marin Trips for Kids, and would recommend them for anyone. Our population is a very difficult one to work with (at-risk 17-25-year-old high school reentry) and TFK has worked with us time after time to overcome some obstacles we have had on the trips. Specifically, Michael has been incredibly patient and willing to change the way some expectations are met to help accommodate our students. In addition, I know that our staff are sometimes hard to reach, and to communicate with due to the nature of our program. Trips for Kids have always been incredible in dealing with us, and still making our trips educational, safe, and fun. Our students are initially resistant to all activities they have little experience in, but after our biking field trips, they talk about how great it was for weeks."
To learn more about these organizations and others like them, please check out GreatNonprofits!