Little Kids Rock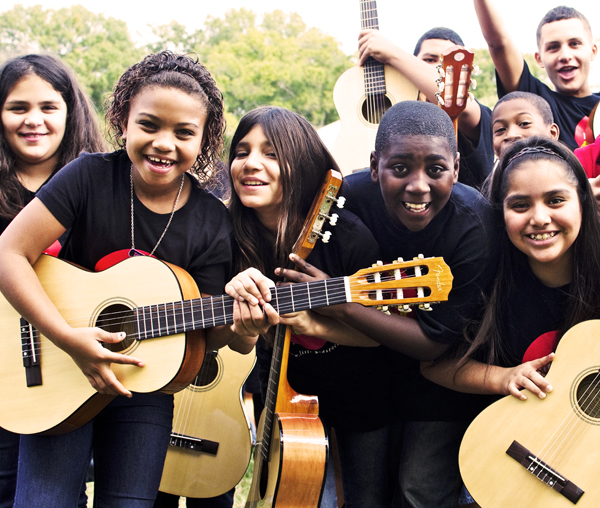 Little Kids Rock
It started in 1996 with one teacher in one classroom. Frustrated by lack of music education at his school, David Wish offered an afterschool guitar class and Little Kids Rock was born.
During the past 13 years, Little Kids Rock has donated more than 43,000 free instruments and provided music lessons to over 325,000 underprivileged kids in 12 states and Washington, D.C.
Fast-forward to 2014, when Little Kids Rock partnered with Berklee College of Music to launch a three-year roll out of "Amp Up NYC," an expansion of Little Kids Rock's Modern Band program. Its goal is to reach 60,000 kids in an additional 600 schools in New York City, the largest school district in the U.S.
Just as important as the reach of the program is its message.
Little Kids Rock is about the kids and not the music. Its Modern Band program is about engaging students and connecting with their creative side. Rather than training kids to read music and learn notes, the teachers focus on teaching songs the kids love and guiding the students as they improvise and compose new tunes. Some kids call the program a "de-rock-racy," since the students pick the music and choose the instruments they want to play.  Little
Kids Rock does more than donate guitars, drums and keyboards; they build programs that endure and bring lasting pleasure to
students and teachers alike.
It's magic. And it changes kids' lives.
Nancy's story
Nancy was quiet for so long. For years, classmates teased and bullied her, making fun of her speech impediment. When she was in the seventh grade, her school began offering the Little Kids Rock's Modern Band program. Nancy found the opportunity to learn the guitar irresistible (as her dad, who passed away, also played). For Nancy, Writing songs turned out to be the perfect outlet for her pent up feelings. "When I sing," she says, "I feel like I can be flawless." Now a senior in high school, Nancy dreams of being a songwriter and recording artist; she continues studying and composing music.
Teachers find a new way to reach kids
It's about the kids, and helping them use music as a healing force, a refuge, or a means of finding self-worth. And the kids, in turn inspire their teachers. When a group of teachers were asked at a Little Kids Rock Modern Band workshop to name a favorite rock star, one teacher called out the name of her student Lamiya. As a six-grader, Lamiya had been studying the violin, but her heart was in singing and songwriting.  Her teacher in the Little Kids Rock Modern Band program (who also led the school's traditional concert band) said she would never have truly gotten to know her student in the traditional music class setting. Lamiya helped her young teacher become a wonderful mentor and advocate for Little Kids Rock.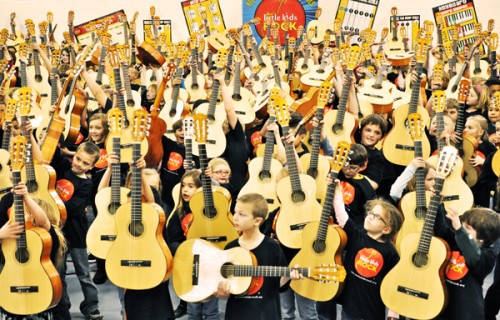 Need more inspiration? Take a look at this video.
https://www.youtube.com/watch?v=8BwxBsjAh7M
As one volunteer, a trained classical musician, stated so eloquently, "My experience as a volunteer at Little Kids Rock brought into focus the dramatic impact music has had on my life and the power of an organization like Little Kids Rock to give the gift of music to so many others, impacting their lives in ways unimaginable."
It's no wonder Little Kids Rock was top-rated by GreatNonprofits in 2014.