Food-Related Community Nonprofits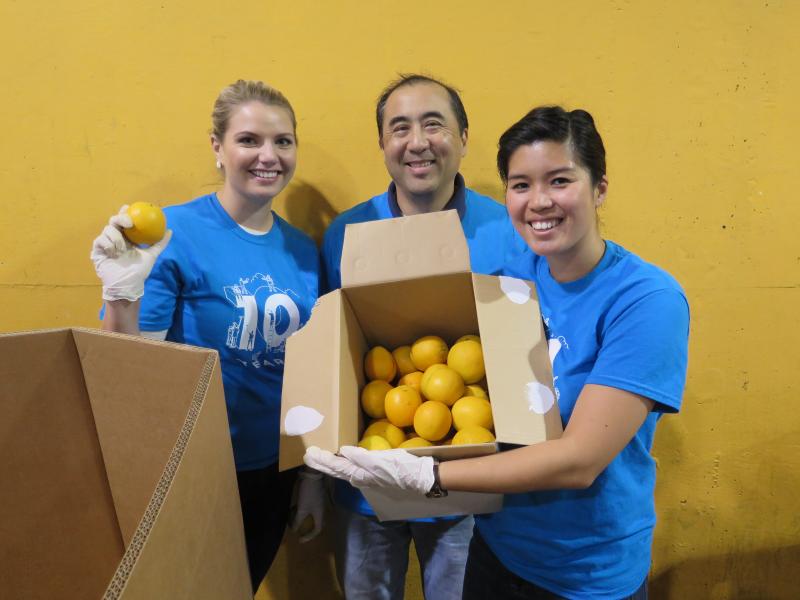 Despite the U.S.'s status as one of the wealthiest countries in the world, nearly one out of every six Americans faces hunger. The Department of Agriculture (USDA) defines a food-insecure household as one that has limited access to foods that are safe and nutritionally adequate, or in which the ability "to acquire acceptable foods in socially acceptable ways . . . (that is, without resorting to emergency food supplies, scavenging, stealing, or other coping strategies)" is severely limited.
13.1 million children

and

42.2 million

Americans of all ages lived in food-insecure households in 2015, according to

FeedingAmerica.org

20%

of people who lived in food-insecure houses in 2015

were children
12.7% of households

in the U.S. are food-insecure, with

5% of households

suffering from

very low food security

, according to the

USDA
These shocking statistics highlight the issue of hunger and food insecurity in too many households across the country. However, a number of inspiring nonprofits are responding to the need in their communities by applying innovative techniques and compassionate service to get more people fed. A few inspiring highlights from our list of Top-Rated Food Nonprofits are making important changes in their communities:
Serving Food Deserts Through Gleaning and Sustainable Farming
America's Grow-A-Row in Pittstown, New Jersey
America's Grow-A-Row provides fresh, healthy produce to clients in need through farming and gleaning. One of its programs invites groups of students from the inner cities of New Jersey to spend a day harvesting produce that they can bring home to their families. During their time on the farm, the students learn about farming, sustainable agriculture, and healthy eating principles that they may or may not have been familiar with. One donor admired the "superb job" they do "of gathering the community to plant and harvest the vegetables and creatively distribute" them. The nonprofit works with grocery stores to rescue "not quite retail perfect" produce and deliver it to local food pantries. One volunteer was particularly moved by her experiences working there, writing, "So many people benefit from this organization. I just feel like I'm overflowing with joy whenever I help pick and distribute the produce."
Keeping Food on the Tables of Low-Income Families in Need
Minnie's Food Pantry in Plano, Texas
According to the Baptist Standard, one out of every four children in North Texas suffers from food insecurity, one of the highest rates in the country. To respond to this need, Cheryl Jackson created Minnie's Food Pantry, a nonprofit named after her mother, who grew up in a family of seven children and spent much of her childhood not knowing when her next meal would be. The pantry distributes up to 50 pounds of food to low-income families in Plano, Texas, providing its clients with boxes of fruit, vegetables, lean proteins, and nonperishable items that make for complete and well-balanced meals. The nonprofit addresses an urgent need for low-income families in need as well as for people experiencing homelessness, but it also builds relationships with volunteers and clients in the community. One client appreciated not only the food and direct service she received, but also that they "have just shown [her] so much love."
Addressing the Needs of a Vulnerable Population Within Their Community
AIDS Assistance Program in Palm Springs, California
The AIDS Assistance Program was founded in 1991 to ensure that low-income residents of the Greater Palm Springs area living with HIV/AIDS had access to adequate nutrition and could "continue to live in their homes with dignity and self-respect." The nonprofit distributes $100 per month in food vouchers to each of its clients, and the vouchers can be used for food, household needs, and other personal items. Since it opened, the AIDS Assistance Program has distributed more than $9.5 million to more than 2,100 clients and expanded to accommodate people suffering from cancer, MS, heart or liver disease, and other chronic illnesses. One member of the community wrote, "They have helped my nephew now for about nine years. He is a disabled vet living with AIDS, and the food cards they give him every month help him stay alive with dignity." Another former client shared his story, saying he had "now gotten off [his] feet," adding, "I could not have done it without the help of these really nice people and volunteers."
These inspiring nonprofits were all formed to respond to a specific need within their community: Grow-A-Row to the lack of access to fresh produce in inner-city New Jersey, Minnie's Food Pantry to the abnormally high rate of food insecurity for North Texas children, and the AIDS Assistance Program to the high rate of HIV/AIDS among low-income residents of Palm Springs. By acting locally, these nonprofits were able to hone their service, tackling specific barriers to access that affect their community. Inspired by their example? Consider sharing this page to raise awareness, donating or volunteering with a food nonprofit near you, or checking out our Top-Rated Food Nonprofits nationally.