Fall Volunteering: Support Kids and Families in Your Community
by Sam Reeve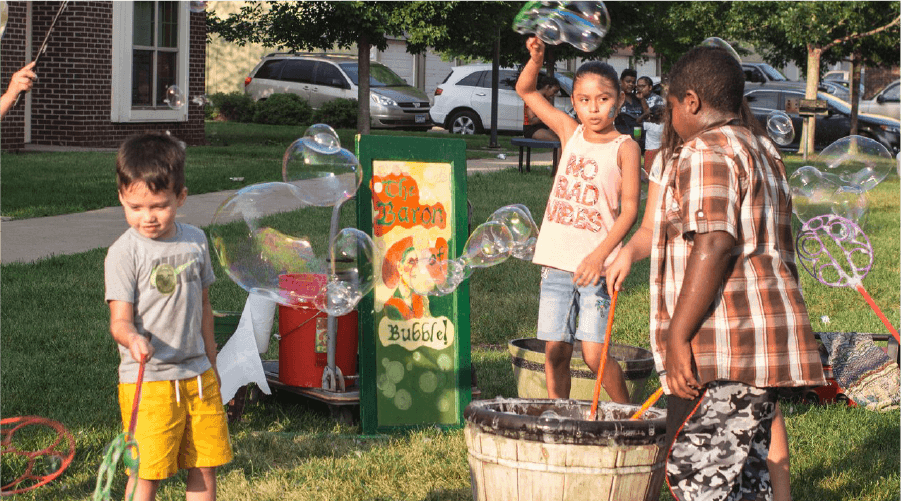 Kids, kids, kids everywhere! Rush hour traffic is picking up, the heat has (hopefully) plateaued, and students across the country are settling back into school. There is no better way to usher in the school year than to give your time and resources to organizations supporting kids. You can start with one of these eight top-rated nonprofits:
This nonprofit is building the foundation for playful, healthful, and hopeful living for children and families in Palm Beach County. They serve infants, young children, and families who have experienced abuse, violence, and other traumatic situations through a variety of programs such as counseling, assessment, support, education, outreach, and prevention.
"Center for Child Counseling is making waves in our community, educating teachers, principals, nurses, lawyers, etc. on the effects of trauma in early childhood and providing early intervention to numerous families in need! This agency is made up of compassionate individuals who are determined to make a positive change in the lives of our youth and a lasting impact within the community for generations of children to come."

Nationwide
This organization provides a free warm coat to any person in need. One Warm Coat supports individuals, groups, companies, and organizations across the country by providing the tools and resources needed to hold a successful coat drive. Since their inception in 1992, they have worked with volunteers to give away nearly 5 million coats.
"I have held a coat drive for the past three years with the guidance and help of OWC. I used to work in a school where kids would come to school in the middle of winter without coats. That's when I went searching for an organization and found OWC. I have been able to facilitate and help more than seven shelters and schools in New York City. Hands down I could not have been able to do it without OWC's resources. I am looking forward to the winters to come. THANK YOU OWC, Broadway loves you!"
This non-profit provides tens of thousands of Night Night Packages each year containing a security blanket, age-appropriate books, and stuffed animals to homeless children in an effort to help them have sweeter dreams.
Homelessness affects every facet of a child's development, increasing the risk for developmental delays, learning disabilities, emotional and behavioral disorders, health concerns, and deficient social skills. Project Night Night believes that these devastating effects can be mitigated by receiving a good night's sleep. 
"Project Night Night tackles homelessness with kindness and caring for young children placed into situations that are often scary and filled with uncertainty. Their individual tote bags offer comfort and compassion. I can't say enough positive things about this organization. They've even donated bags to my local shelter, which was a tremendous blessing."

New Brighton, Minn.
Opportunity Neighborhood supports people and strengthens neighborhoods within affordable housing communities through cooperative partnerships. They provide programming and services related to early childhood education, youth intervention, out-of-school time, summer opportunities, life skills training, nutritional education, safety initiatives, information and referral services, and community events.
In 2018, they increased their literacy program efforts with the addition of a literacy intern. This contributed to 88 percent of Ames Lake first- to fifth-grade students increasing or achieving grade-level reading skills as measured by literacy assessments. 
"I have been involved with Opportunity Neighborhood for more than 10 years. They have never wavered from its mission to support families and strengthen neighborhoods within affordable housing communities, with goals to increase community safety, housing stability, and opportunities for family success. Opportunity Neighborhood truly cares about all members residing within the affordable housing communities that it serves."
Oceanside, Calif.
This foundation empowers youth through yoga, nutrition, and optimistic teachings that help to develop life skills that can enable them to take responsibility for their life, develop respect for themselves and others, and have confidence in their own potential.
The foundation trains hundreds of schoolteachers and serves approximately 1,500 low-income, at-risk youth ages 9–18 living in San Diego and Los Angeles counties every year. 
"The story of the tragic loss of Sean O'Shea, a man of many virtues, is one the students can identify with, as the lives of many of them have been peppered with loss. They get to experience something beautiful that grew out of the O'Shea family's loss, and develop hope for their own beauty to grow out of their own losses. I can't say enough about how authentic, inspiring, effective, and professional the Sean O'Shea Foundation nonprofit yoga programs are." 
Little Kids Rock is determined to build through music a world where kids can lead creative, rich, purposeful lives. They train public school teachers and donate all of the instruments, resources, and support they need to ensure that their kids receive the right to rock.
Little Kids Rock has worked hard to ensure access to engaging, relevant, modern band music classes and brand-new instruments for more than 300,000 underserved schoolchildren across the U.S., at no cost to the students, teachers, or school districts. 
"I was ready to leave teaching. As a NYC music teacher after eight years of not having supplies I was ready to give up. After taking the LKR workshop I had all the supplies and support I needed. It has been seven years since then. LKR saved my career and has been changing my students' lives for the better!"
Nationwide
Kidpower's mission is to prepare people of all ages, abilities, backgrounds, and walks of life to take charge of their safety and to protect children and other vulnerable people in their care.
Since 1989, they have served more than 4.4 million children, teens, and adults, including those with special needs, through workshops, partnerships, and educational resources. They teach empowering and effective child protection, advocacy, positive communication, and personal safety skills that help to prevent and stop most bullying, violence, and abuse. 
"After attending the workshop, my children are more aware of their surroundings, and have gained confidence while out in public because of their awareness and their "safety powers" that they now know they possess. As for me, I came home with knowledge and confidence on what and how to teach them about safety. Kidpower has been life-changing for my family. Simply put, Kidpower workshops should be a requirement for every parent and child."
Nationwide
The mission of FIRST is to inspire young people to be science and technology leaders and innovators. By engaging students in exciting mentor-based programs that build science, engineering, and technology skills, FIRST inspires innovation and fosters well-rounded life capabilities, including self-confidence, communication, and leadership. 
"As a retired engineer and corporate executive in a STEM industry, I believe that this organization is extremely important to the future of our society, of the environment, and of our economy."
To see more nonprofits working on behalf of children, students, and families, visit https://greatnonprofits.org/categories/view/children-and-youth.