Baseball Gives Back
Baseball season now underway—it's time to kick back and cheer for our local teams and favorite players. These professional athletes and coaches we see on the field are also champions in the community, supporting organizations that help children and families in preventing violence, encouraging fitness, fighting diseases, and promoting literacy.
Major League Baseball (MLB) and its 30 teams sponsor events throughout the season, raising money and awareness about issues in the community and the country at large.
Many individual players have started foundations or charities to support causes important to them, their families, or their local community. Read the inspiring stories about these generous men and their contributions.
Barry Zito: Strikeout for Troops
MLB pitcher Barry Zito founded Strikeouts for Troops in April 2005; other big league players have since joined this cause to support injured American soldiers and their families.
Grants from Strikeouts For Troops assist those recovering at Brooke Army Medical Center, Fort Sam Houston, TX, Naval Medical Center, San Diego, CA, Walter Reed National Military Medical, and other care facilities across the country. The foundation assists with immediate needs, like airline tickets and lodging for family members and adaptive equipment for patients ready to leave the hospital.
Here are stories of just two of the many veterans who received grants:
A sergeant, injured by an IED blast in Iraq, now suffers from partial nerve damage to his right arm and leg as well as internal injuries. He used his grant to fly in his parents and keep them near.
A master sergeant stationed in Afghanistan was hit by gunfire and lost the use of his right arm. His grant paid for his in-laws to fly in to take care of his children so his wife could be near him at Walter Reed.
This thank-you note from the wife of a wounded soldier is so touching: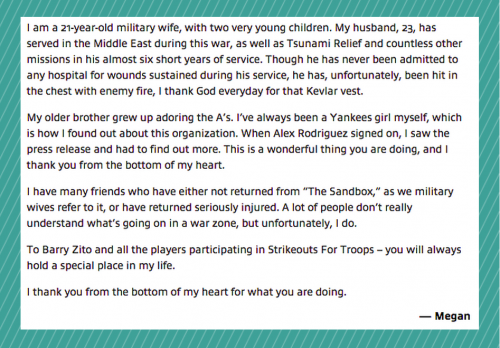 Jimmy Rollins: Rollins Family Foundation
All-Start shortstop Jimmy Rollins and his wife Johari founded the Rollins Family Foundation in 2009. They have actively supported children in need in Philadelphia and surrounding communities through the Juvenile Rheumatoid Arthritis Foundation and Prevent Child Abuse PA.
The Rollins are also committed to providing at-risk children and families with access to fresh food. As Rollins has said: "Fresh food shouldn't be a luxury. Every family should have access to fruits and vegetables."
The Rollins Family Foundation has partnered with these Philadelphia-area organizations and has committed $10,000 to each one: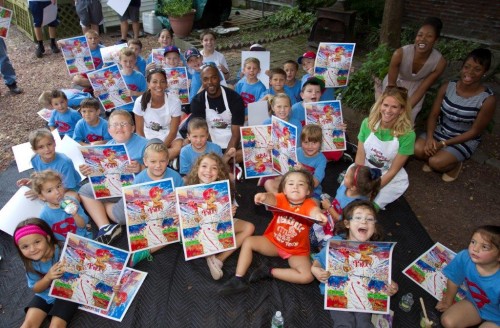 Rollins has long supported J-Roll's Aces, a charitable ticket program, and the J-Roll's Readers program. Both programs are dedicated to working with and enhancing the lives of inner-city students.
In 2014, Rollins (along with Paul Konerko) was a recipient of MLB's prestigious Roberto Clemente award for service to his community.
Craig Breslow: Strike 3 Foundation
MLB pitcher Craig Breslow's drive to battle pediatric cancer stems from an defining experience in his childhood. When his sister was diagnosed with thyroid cancer, Craig vowed to fight the disease. At first, he planned a career in medicine, graduating from Yale with degrees in molecular biophysics and biochemistry, but changed his plans when the Milwaukee Brewers drafted him in 2002.
Breslow started his Strike 3 Foundation in 2008 to raise funds for childhood cancer research. As Breslow says:
The foundations has raised more than $2 million to support kids with cancer, pledging grants to individual cancer researchers and these organizations:
Yale-New Haven Children's Hospital
Connecticut Children's Medical Center
Conquer Cancer Foundation of the American Society of Clinical Oncology,
Children's Hospital of Philadelphia
CureSearch for Children's Cancer
Connecticut Children's Medical Center
Yale's Smilow Cancer Hospital
Lee Memorial Health System Foundation
Breslow was the runner-up for MLB's Roberto Clemente award in 2014.
As Bud Selig, the former commissioner of baseball said:
Baseball is a social institution with significant social responsibilities, and it is a privilege to draw attention to organizations that work tirelessly to address these challenges.
The next time you attend a game, don't just look at a player's batting average or earned run average. Check out how your favorite players are giving back.