Amazing Dogs Helping Humans Live Better Lives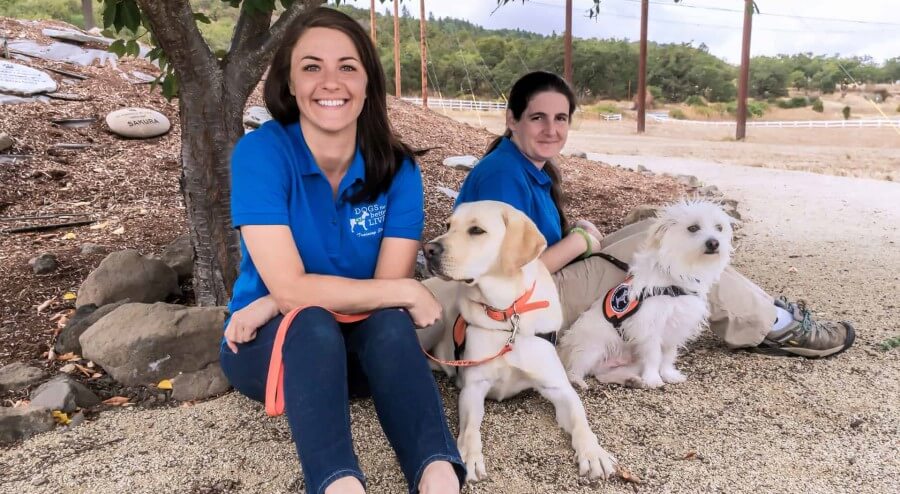 Dogs make incredible companions for humans, but they can offer so much more. They are also incredibly smart and can be trained to help protect and save lives. Dogs can sniff out medical issues before they become life-threatening, they can offer eyes and ears for those who need a little assistance, and they can even help inmates develop skills for their life after release. They are incredible animals with incredible talents.
Today, we wanted to focus on some nonprofit organizations helping to train dogs for many different reasons.
Xenia, OH
This nonprofit helps train and partner service dogs with people in need worldwide. They have five different programs – Autism Assistance, Hearing Ear, Mobility Assistance, Multipurpose Assistance, and Seizure Assistance. Training and raising these dogs is not cheap and it takes a village to get these dogs ready to help. This organization has had a lot of great success raising pups and growing their reach each year. So many of their accomplishments are thanks to the people who volunteer and donate regularly.
Here is a recent story from one of their volunteers who helps raise and prepare the dogs for their service work:

"I've been a volunteer trainer for almost two years now and nothing compares to my experience here. Both of the fosters I've cared for have been papillons and the community of people who work with this small breed are delightful. 4paws is filled with loving and caring staff that answer questions, give advice, and help our dogs succeed. I've found a family inside being a volunteer trainer with 4paws and I can't begin to tell you how it's changed my life. Not only have I made strong and genuine relationships I have two puppies I've helped raise to benefit another. They are my extreme joy and it's been so much fun helping them learn to navigate the world. My first dog has traveled to weight states with me and flown 20+ times, it's wonderful to take him with me and educate people in the world on the work I'm doing. While the goal of graduating a dog and giving them back are the goal and hardest part at the same time, giving your heart to a SDiT is the best experience you'll ever have. You may shed some tears, but you won't regret it."
Lakeville, MN
This is another fantastic organization that focuses on training service dogs for people who have physical mobility disabilities. One of the unique things they do is offer multiple training options. They utilize University students, volunteers, veterans, inmates, and young people to help train and raise the dogs. The Prison Road Puppies program works with inmates in Wisconsin and Minnesota to develop skills like emotional and social competence, leadership, communication, work ethic, and increased levels of responsibility and empathy. Being able to involve so many different groups in the preparation of these service dogs helps solve problems for more than just the person that ends up with the service dog.
"My husband is a wounded warrior…he lost a leg in Afghanistan and struggled with a lot before we got in touch with PawPADs a couple years ago. We were eventually partnered with Barkley just over six months later. Barkley is a dog who was rescued from a shelter and trained in a prison by PawPADs. Barkley changed our lives. There is not a piece of medical equipment on the planet that can do what this dog does for my husband. Barkley has given him a best friend and companion to share not only his struggles and hard times but his successes too. PawPADs has given us something we hadn't had in a few years and that's encouragement. Barkley can turn on the lights and pick things up but the best thing he does is watch out for and take care of my husband. The support we have received from PawPADs is beyond anything we have ever known. This is a nonprofit that is not only changing lives but changing the world while helping wounded warriors like my husband. I would give them more stars if I could."
Wilmington, NC
The incredible work done by Paws4People training service dogs is directed mostly towards children and veterans. Their philosophy is that children and teens with disabilities are the clients. If the child receives proper training and employment, an assistance dog might help them perform tasks on their own. Over time, that can help reduce the dependence on adults and aids and allow them to be more independent.
Here is just an inspiring story about one of their animals:
"paws4people is an amazing organization that has changed my life in so many ways. I first became interested in volunteering with paws4people because they helped individuals with developmental disabilities such as autism. As a recreation therapy major the UNCW SDTP was the best of both worlds for me. After volunteering with the puppies and in the SDTP for about 2 years I suffered an accident that has left me with physical mobility issues. Without missing a beat paws4people staff wrapped me in their arms and bumped me with an amazing dog WALLIS. WALLIS has made my life so complete. He is always right there to pick up things I have dropped, bracing so I am able to get up and uses the "go alert" command to get someone if I have fallen at home or in public. He has put my world back together when I never thought I could be whole again. The paws4people staff, especially Kyria Henry, are wonderful. They are so supportive and are always there to hold you up and make you feel like part of a family. I don't know where I would be without this amazing organization!!"
Narberth, PA
The idea behind this organization is right in the name. They take dogs from shelters that don't have any time left and save them. The dogs are paired with prison inmates, and they go through a 12-week training program. The inmates gain experience in training dogs and the dogs are able to find homes easier. The system is incredible and helps so many people and dogs get a second chance.
Here is one story from a client that adopted a dog from this nonprofit:
"We adopted our dog Ike from New Leash On Life. It was one of the most pleasant experiences of my life.

I didn't know what to expect because my wife and I were first time dog adopters. The staff made every step of the process a breeze. They promptly returned our phone calls and made sure all of our questions were answered. I was especially pleased with Waleed and Maggie they took the time to pick up Ike and make sure he was a perfect fit for our family.They brought the dog over to our home 3 times to socialize him with our cat Biggles!!! With the help of his wonderful trainer Jenn,who along with the inmates was responsible for the training Ike received. This is the best part. All of the Dogs from New Leash On Life go through a three month training program where they are thought various commands.such as,sit,stay,come,paw,roll over and they also go in there crate on command.So it's a win win situation for everyone involved.The inmates gain a new skill,the dogs are saved from kill shelters,and the adopters get a highly trained and beautiful dog. I would highly recommend A New Leash On Life to anyone looking for a dog."
Quantico, VA
For many service members, coming home from combat can be a difficult shift. Christopher Baity knew that struggle very well after facing it himself. He started Semper K9 with his wife in 2014 to take the skills he learned with dogs and their ability to help people cope with PTSD and other illnesses. Semper K9 Assistance is unique because they train each dog to meet the individual needs of the family they will be with. Even though they are still relatively new, they are growing every year and working to continue to provide dogs for more families.
Here is a recent story from a family that used their training services:
"My husband George and I adopted 2 Pitbull puppies that were abandoned and the mother had died. When my husband talked to his internist, she said he should have a service dog. George was in the Gulf War and 16 years in the Marine Corps. He struggles with daily with a wide range of problems.

We took the puppies at 6 months of age to Chris and began the long journey of training, thinking neither would work out. We were wrong! Both dogs graduated and Layla who is George's primary dog is now on a flight to Chicago with him. She has flown to numerous states and goes to work with him every day. Semper K9 is a genuinely caring and professional organization. Chris has extensive years working with dogs of all kinds including in combat.

George and I highly recommend Semper K9!"
These incredible organizations are just a few that specialize in animal training. They are always looking for volunteers, foster families, and donations of all kinds. Thank you to those humans doing the work and to the dogs that are giving so much love to the families they join.