10 Fun Ways to Celebrate Earth Month With Your Kids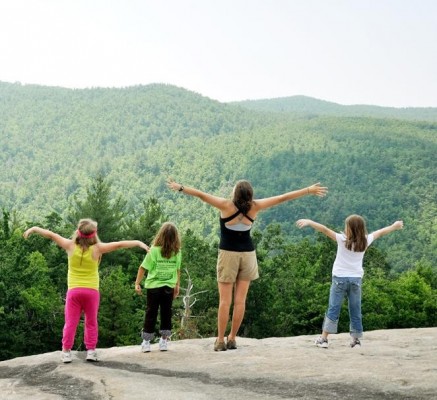 It's Earth Month, and we have some great ways to get kids involved! Earth Month is the perfect time to get kids into appreciating the natural world and taking care of their planet. Here are some ways to celebrate!
1. Take a hike, and clean up!
Get outside and get moving–hikes are an easy way to show kids the wonders of their own backyard and with spring here, you might get to take in blooming flowers and wildlife. Many local nonprofits hold programs in parks and natural areas. Local nonprofits are also responsible for stepping up and helping out state parks during budget cuts. Find a local environmental nonprofit near you.
If you live near a beach, river or lake, chances are, a local nonprofit needs your help for its next cleanup! Many organizations ramp up their cleanup efforts for April. Don't live near water? You can still pitch in to clean up in your own backyard at your local park, school or playground!
2. Visit an Animal Rehab Center
Get access to some amazing wildlife while learning about how humans affect wild animals and their habitats near you. Visit a raptor center, like Cascades and witness eagles and owls up close. Live near the water? Find a marine mammal center, like the Marine Mammal Center in Sausalito, CA,  to see how trash can entangle sea creatures, and how to help.
3. Go to a Car Wash
What kid doesn't love being inside the car as it goes through a car wash? Why is it good for the environment? Car washes recycle their water, so much less water is used than when you run your hose at home to wash. And while your working on the car, check your tires, under-inflated tires can negatively affect your MPG, making your car less fuel efficient.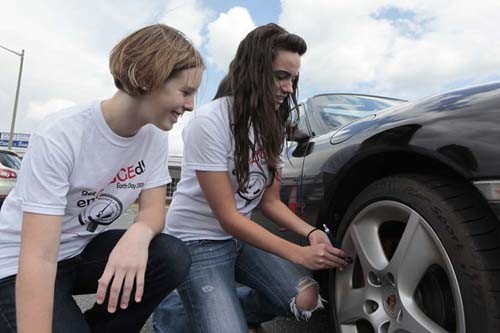 4. Start a Garden or Visit a Farm
Gardening is a fun, hands-on way to teach kids about the Earth and about healthy food. Grow your own veggies, or create a garden full of flowers to attract hummingbirds and butterflies! If your kids are into critters, start a compost bin and be sure to add lots of worms! Many nonprofits hold programs to educate urban farmers, like the Seattle Tilth Association. You could visit your local community garden for more inspiration. Many working farms give tours geared toward kids that show the effort and care that goes into growing healthy, local and fresh food while kids can engage with the farmers and animals.
5. Feed the Birds
Make your yard or balcony a haven for hungry wild birds. Set up a bird feeder and keep track of your visitors. There are many local Audubon Societies that give local birding walks as well and can help you identify the birds at your feeder. Take a walk around your neighborhood one morning and try to see how many birds you can identify. Believe it or not, the local dump is actually a favored birding spot as well. Some dumps and recycling centers offer tours. (Also a great place for kids to see how waste adds up.)
6. Recycle Your Clothes and Toys
Now is a great time to do some spring cleaning. If you end up with a mountain of clothes that no longer fit your kids, or toys that they have outgrown, consider donating them to those in need. It's easy to have kids help out. Gather all of your donations in a recycling bin and head to your local Goodwill together. Many local groups also accept clothing and toy donations for those in need.
7. Ride a Bike
Instead of driving to run errands, try riding bikes together to local shops. You'll save gas, get exercise and help the environment. Many bicycle nonprofits advocate for bikers' rights and/or offer safety courses for riders, like The San Francisco Bicycle Coalition.
8. Read a Book–or Write One!
Take a trip to your local library and check out some books about your local flora and fauna. (After all, the library puts 'reduce reuse recycle' into action every day!) Have a writing session with your kids and create some art about the Earth. Nonprofits like River of Words in Berkeley, CA work to foster both literacy and environmental stewardship through poetry.
9. Go to a Farmers' Market
Get some tasty local fruits and veggies at your farmers' market. Most markets will let kids sample lots of different foods. Talk with the farmers and ask about how they grow their produce. Bring your reusable bags and ask for recipes too! Then have the kids help out with preparing a meal with the fruits and veggies you buy.
10. Make a Reusable Bag
Don't have bags for the market? Use an old t-shirt and make a reusable bag! Kids can have fun decorating it.
Know of a great environmental nonprofit doing work near you? Write a review and let other folks know about it!