10 Easy Ways to Get Kids Involved in Nonprofits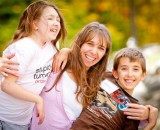 Want to instill the values of compassion, kindness and giving in your kids?  Teach them to have a positive impact in their community and the world; check out these ideas.
1. Join a Community Cleanup
Too much time in front of videogames and not enough time outside? Find a nonprofit organizing a beach, creek or park cleanup in your area. Spend some quality time outside while teaching kids to take pride in their community and local environment.  Check out ACTERRA. Find environmental nonprofits in your area.  
2. Walk to Fight Disease
Get some exercise and make some new friends by walking to increase awareness and raise funds for research and treatment. If your child is too young to walk a few miles, you could push him or her in a stroller. Find health organizations in your area.
3. Find a Toy Drive
Teach generosity. Many organizations hold toy drives for needy children. Got some unused toys that your kids aren't going to use? Find a donation location in your neighborhood. While you're at it, clean out the closets and then check out our number 8 recommendation.
4. Package Food at Food Banks
Find a few cans in your pantry that your family doesn't need and take your kids to your local food bank to donate. Some food pantries also need help with packaging donated food. Thanksgiving is a great time to volunteer, as many food banks need help packaging Thanksgiving dinners for families who cannot afford them.  Check out Meals on Wheels of San Francisco. Help people in need of food near you.
5. Spend Time at a Senior Center
Take your kids to a senior center where they can interact with someone from another generation. Children can read with seniors, play board games or simply listen to their stories. These seniors cherish young visitors, especially when they do not have grandchildren of their own, and the companionship of a child will truly brighten up their day. Find charities that help seniors near you.
6. Volunteer at the Homeless Shelter
You can offer support and friendship to folks who don't have many people there for them. This experience will teach your children a lesson that will stick with them for the rest of their lives and remind them why it's so important to help out. Your kids may not be old enough to serve food, but you can donate personal hygiene items together, or, ask your local shelter what they need most. Find a homeless shelter to help at.
7. Sponsor a Child
Here's an opportunity to help a child with a troubled background. These kids could be from impoverished families in foreign countries or they could be orphans, or they may suffer from a disability. Through small monthly donations, you and your child can substantially enhance a child's life. Many of these programs require you to maintain written correspondence with the child you sponsor; This is a great way for your children to keep in touch with a child from a very different background and a very different place, as well as see exactly how the donation impacts the child's life. Check out the positive reviews of Cambodian Children's Fund.
8. Donate Clothes
Go through the closets with your kids and pick out some clothes that they have outgrown and are still in good condition. Then go drop the clothing off together at a nonprofit.  You and your kids  could even ask friends from school or neighbors to help. Check out Goodwill Industries.
9. Volunteer at the Special Olympics
Volunteer to be a coach, official, or trainer if you truly love a sport and want to share it with a disabled person. You could also help run events, take photos or help answer phones. Special Olympics has its own program especially for youth called Project UNIFY. Check it out here.
10. Ask your favorite nonprofit what they need!
They will be eager to hear from you and your kids!
Have we missed something? Let us know; post your ideas below.