"Why Don't I Solve This Problem Called Hunger?"- An Interview with Andre Angel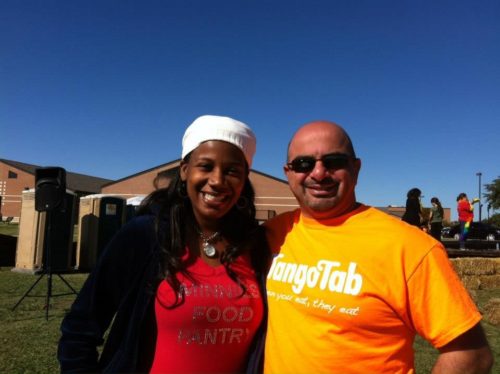 "As an entrepreneur and someone who has sold so many companies, I know how to build a business, so I thought, 'Why don't I solve this problem called hunger?"
Andre Angel is a serial entrepreneur and philanthropist who has built more than a dozen companies and, so far, created successful exits from eight of them. He created TangoTab, a marketplace app that helps restaurant owners manage their customer traffic to fill their empty (underutilized) seats by offering incentives to consumers to come in at less busy hours. Every time a customer uses his app, the company donates a meal to a person in need, locally. So far TangoTab has fed nearly 1.7 million people.
Approximately 795 million people do not have enough food to lead a healthy and active life, according to the World Food Programme
45% of deaths for children under 5 are caused by poor nutrition
According to an estimate by the World Food Programme, $3.2 billion is needed to feed the 66 million hungry school-age children
As the numbers above show, the need for creative solutions is great, and luckily people like Angel are applying their skills to address the problem of hunger in new and innovative ways. From apps to sustainable farms and other community programs, people around the world are coming together to meet their nutritional needs and ensure food security for the people who are currently struggling to put food on the table. And Angel was kind enough to sit down with us and answer some questions that GreatNonprofits had about his mission to end hunger.
GreatNonprofits: What inspires you to give?
Andre Angel: Well before I can answer that question I need to provide some context. I was asked to join the board of a food pantry . . . but before I did, I wanted to bring my kids, who I was raising on my own, in to volunteer. That visit changed my life more than theirs. I noticed the people parking their cars to come in were dressed better than I was that day. . . . I asked permission to interview them, and what I found was shocking. Some of them were executives who had lost their job in [the] 2008–09 [recession], burnt through their savings, and now wound up at a pantry. So, looking at the problem of hunger in the U.S.  . . . that's what inspired me to act and get going.
GN: What has surprised you about giving?
AA: I think giving allows us to gain a lot, whether it's our legacy, whether it's an emotional satisfaction or fame, whatever a person is looking for. For me, it's what I leave with my kids.
GN: What makes TangoTab unique?
AA: Effectively, what I've built is a business that is a self-funding mechanism. It's a business that's self-sustaining and that continuously generates money from the actions that people do normally, and without having to ask a person for a donation.
GN: Does this reflect a larger philosophy about the best way to address the issue of hunger?
AA: I think the business model we've created is a scalable and sustainable, which enables us to fund nonprofits. What we have effectively done, with a slight modification of the business model, is turn a [for-profit] business into a "giver" at its core. I call it social consumerism, and I think the ability to turn consumerism into something that gives back is a phenomenal thing. We can solve a lot of our humanitarian problems doing that. Imagine if we can get everyone to download the TangoTab app and use it every time they dined out. With more than a billion meals dined out in the U.S. alone, we can put an end to hunger. I would love to have every reader to download the app: http://Download.TangoTab.com
GN: Can you tell us about one person or family you met through your work that especially sticks out in your mind? And why they resonate with you?
AA: On the first day I went to the food pantry, one of the people I met was a man named David. He was a single father with a 10-year-old at the time. In 2007 or so, he was a mortgage broker, and around that time he'd bought a house. Two months later the market crashed and he lost the house. David had no job at that time; having to support one kid and himself . . . he and his son had been living on ramen soup. For the last three days he had given his son all the ramen they had. That day, when I talked to his kid, he said, "I just gave dad the last ramen noodles we had because dad had not eaten in three days." That just broke my heart. We all see hunger, and I think a lot of us get desensitized to it. We accept it, but it should be totally unacceptable for any human to be hungry. Food is a basic human right!
TangoTab has expanded from funding traditional food banks to also supporting sustainable farming projects and other community food initiatives. If you want to support a food nonprofit that is helping to solve the problem of hunger locally or around the world, check out our Top-Rated food nonprofits, or browse our website to find an amazing food nonprofit near you. Hunger is an issue that affects too many people in our local communities and around the world. Consider sharing this page to raise awareness of charities focused on ending hunger, and research some outstanding nonprofits at GreatNonprofits.org.