U.S. Cities with the Most Top-Rated Nonprofits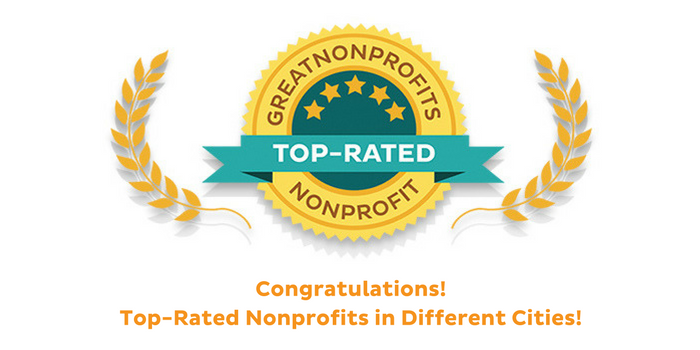 This year, 1,683 charities received Top-Rated Awards from GreatNonprofits.org. Top-rated nonprofits were selected in 40 different categories based on reviews written by the people who work directly with the charities. Our 2016 Top-Rated Awards compiled feedback from donors, clients, and volunteers, highlighting the amazing work done by charities in the arts, the environmental and social justice spheres, health care, and more!
Perhaps it's unsurprising then that New York also tops our list with 48 top-rated nonprofits this year, the most of any U.S. city. L.A. is the runner-up with 38. And while Chicago is both the third-most populous city and has the third highest number of total registered nonprofits, Washington, D.C., managed to edge out the Windy City for No. 3 with 36 top-rated charities. Rounding out the top 10 are San Francisco in fourth with 29; San Antonio, San Diego, and Houston tied for fifth with 17; Boston and Chicago tied for eighth with 16; and Phoenix coming in 10th with 14 top-rated nonprofits.
We wanted to look at some of the data in greater detail and figure out if types of nonprofits gravitated toward certain U.S. cities. Here's what we learned:
The most popular categories for New York nonprofits were health and education, with seven of the city's top-rated nonprofits coming from each category. One of the world's biggest cities, more than 1.1 million students are taught at more than 1,800 New York public schools, as well as roughly 2,000 private schools that serve almost 500,000 students. It makes sense that nonprofits with an education focus would be attracted to a city with so many students.  
One of those educational nonprofits,

Children's Scholarship Fund

, provides tuition assistance to low-income children from kindergarten through eighth grade, allowing them to take advantage of educational opportunities in their community. One parent whose child receives a scholarship through the nonprofit wrote that not only did Children's Scholarship Fund provide "

a scholarship that helps us tremendously, but they stay in contact with us throughout the school year offering tips and fun activities to do together."

Among the top-rated Health nonprofits in New York is the

Autism Science Foundation

, which allocates money to scientists researching causes and treatment options for people with autism. It also works to raise awareness about autism in the general public and supports families who are raising children with autism.
In Los Angeles, health and animal nonprofits make up the top two categories. It's not surprising that animal charities would gravitate to the city with PETA's second-highest score for vegan-friendliness and one of the highest rates of vegetarianism in the country, according to the Huffington Post.
Among this year's top-rated L.A. nonprofits were

two

cat-related animal nonprofits: the

Stray Cat Alliance

and

Kitten Rescue

. Stray Cat Alliance spays and neuters stray cats and rescues cats from the impound and the streets. The Kitten Rescue is a

volunteer-run organization that focuses on finding new homes for unwanted and abandoned cats, helping educate the public on responsible pet ownership and taking care of feral cats.

Heal One World

is an L.A.-based health charity that connects its clients with preventative health care, nontraditional treatment options and natural, non-invasive remedies for a variety of health concerns.
Washington, D.C.'s top category for top-rated nonprofits is Children & Youth, with Arts and Culture and Civil Rights tied for second. A recurring theme among California metropoles, both San Francisco and San Diego have an especially high number of top-rated animal nonprofits, with the category coming in second in both cities. However, San Francisco's No. 1 category was children and youth interests, while in San Diego arts charities took the top spot.
Texan cities have the most unique pool of top-rated charities. Both San Antonio and Houston have the highest number of top-rated charities in categories that don't appear anywhere else on the list: San Antonio with veterans charities and Houston with religious charities.
Boston has a large number of community and human services nonprofits, such as charities that provide dresses to low-income girls and women for school dances, and promote the creation of community parks and other community-building organizations. In Chicago, the arts are tied with youth and children's nonprofits for the top spot, with organizations such as a blues music nonprofit, a ballet company, a nonprofit focusing on arts education for youth, and education nonprofits that focus on outreach to at-risk kids and teens. Phoenix rounds out the top 10 with animal charities and health tied for first place.
GreatNonprofits' annual Top-Rated Awards provide a special opportunity to highlight the work of some outstanding nonprofits delivering excellent services to people in need across the country. In addition to providing insights into the culture and values of a variety of cities across the country, our Top-Rated Cities page helps connect people who want to get involved with an organization that is doing outstanding work near them. Check out GreatNonprofits.org to learn more about nonprofits in your area, look through our 2016 Top-Rated Charities list to get inspired by amazing organizations, and donate, volunteer, or share this page to raise awareness!