Nonprofits Supporting Our Cultural Heritage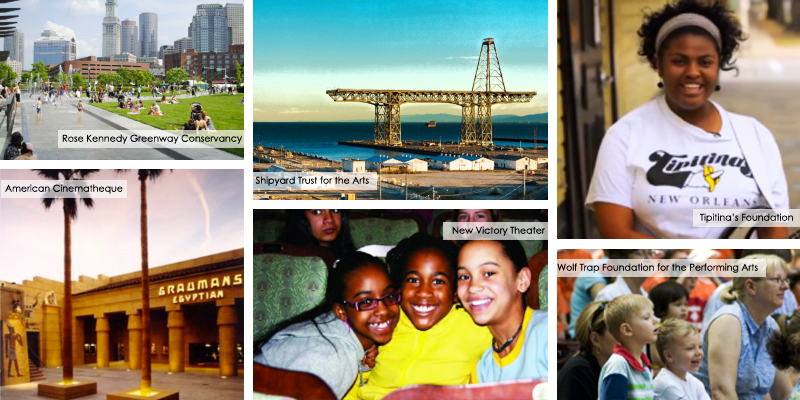 Summer's almost here; time to start making those vacation plans. As you glance through guidebooks, you'll be sure to see lists of "don't miss" monuments, parks, and museums. But take a little time, and you'll also find places where the local population strives to keep local cultural heritage and customs thriving Look for places where people are working together to save a remnant of history, turn an urban landscape into a swath of greenery, or keep a cherished craft alive. The places highlighted below are just a small sample of what awaits you on your travels – we've highlighted nonprofits promoting our cultural heritage in the Northeast, Southeast, South, Midwest and West.
CULTURAL HERITAGE IN THE NORTH-EAST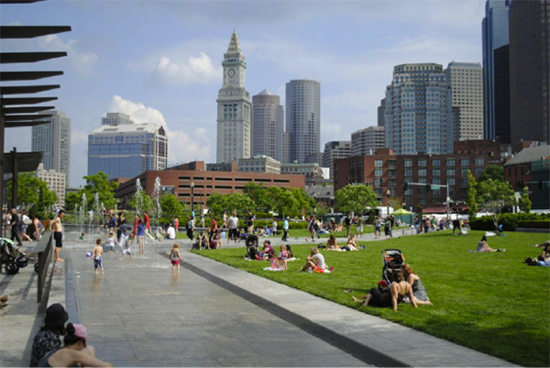 (Image courtesy of Rose Kennedy Greenway Conservancy)
Boston, MA: Rose Kennedy Greenway and Rose Kennedy Greenway Conservancy
Since February 2009, the conservancy has operated this mile-and-a-half stretch of contemporary parks, stitching neighborhoods together, enhancing its physical beauty and encouraging community. Public programs and events attract residents, workers, and visitors; cultural institutions and nonprofits partner with the conservancy to provide events for multigenerational and multicultural audiences.
Each set of parks within the Greenway – North End, Wharf District, Fort Point Channel, Dewey Square and Chinatown – has a unique design that reflects the distinct character of each Boston neighborhood. Visitors enjoy diverse plantings, unique architectural features, historic landmarks, attractions and the beautiful Boston Harbor and waterfront along the way.
What they're saying
A top-rated nonprofit in 2013 by GreatNonprofits, one of its many enthusiastic volunteers said:
"The Greenway makes living in the city a magical experience by bridging the gap between the opportunities of an urban lifestyle and the tranquility of a natural setting. Combined with the impressive use of renewable/organic methods for park maintenance, the Greenway sets an impressive standard every urban environment should follow."

New York, NY: The New 42nd Street and New Victory Theater
Built in 1900, The New Victory is the oldest operating theater in New York. Legitimate theater productions ended in the 1930s and the theater became the first Burlesque club on Broadway. In the 1940s, the theatre became a first-run movie theater, but over the next 30 years, the neighborhood deteriorated. In 1990, guided by a plan to redevelop the area through the revitalization of 42nd Street's historic theaters, the City and State established the nonprofit organization, The New 42nd Street.
The organization was entrusted with a 99-year lease on 7 historic properties, and opened the elegantly restored New Victory Theater in December 1995 as New York City's first and foremost performing arts venue dedicated to young people and families.
What they're saying
Top-rated by GreatNonprofits in 2011, here's a thoughtful comment from an actor and parent involved with The New 42nd Street and New Victory Theater:
"I am a theatre artist, parent and former Preschool and Elementary School teacher. I have long been a fan of the work the New Vic does from a professional standpoint. Their shows are beautifully produced, adventurous, carefully curated to serve a wide audience and lots of fun. But now as a parent with a two year-old, I am especially glad to have them in my life. I took my son to his first play at the New Vic, and he was enchanted. There were even activities in the lobby to keep him interested while we waited for the show."
CULTURAL HERITAGE IN THE SOUTHEAST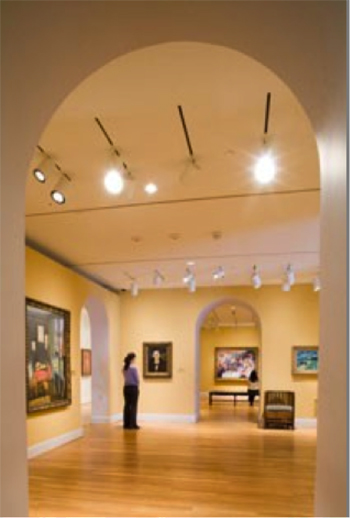 Washington, DC: The Phillips Collection
Duncan Phillips, one of the museum's founders said: "The Phillips Collection is an intimate museum combined with an experiment station." The Phillips Collection is an exceptional collection of modern and contemporary art in a dynamic environment for collaboration, innovation, scholarship, and public participation. The museum also produces a vigorous, award-winning program of educational outreach that serves thousands of students and teachers.
The Phillips opened in 1921 as a few special galleries in the Phillips' family home, a 1897 Georgian Revival house in Washington DC's Dupont Circle neighborhood.
In 1960, a modernist wing was added to the house. Paintings by Renoir and Rothko, Bonnard and O'Keeffe, van Gogh and Diebenkorn are among many stunning impressionist and modern works that fill the museum. Its distinctive building combines extensive new galleries with the former home of its founder, Duncan Phillips. The collection continues to develop with selective new acquisitions, many by contemporary artists.
What they're saying
GreatNonprofits lists the Phillips Collection as a top-rated organization in 2010.  One visitor said:
"Everything possible has been done to keep the conversations between works alive and well and to allow visitors the pleasure of quiet contemplation. In addition, I have come to realize how far into the community the Phillips reaches – even across the country – with exceptional education programs that have won many national awards."

Vienna, VA: Wolf Trap and Wolf Trap Foundation for the Performing Arts
In 1930, Mrs. Catherine Filene Dodd (later Shouse) purchased a 53-acre plot which she called Wolf Trap Farm. Shouse's original intention in purchasing the farm was to share with her children the love of nature that she had known as a child in the family's summer home in Weston, Massachusetts. About her decision to donate Wolf Trap Farm, Shouse said: "So many people had grown to love it, and I wanted it to be used forever by people who enjoyed that land. It's a very cherished piece of property."
As America's National Park for the Performing Arts, Wolf Trap plays a valuable leadership role in both the local and national performing arts communities. Through a wide range of artistic and education programs, Wolf Trap enhances our nation's cultural life and ensures that the arts remain accessible and affordable to the broadest possible audience.
What they're saying
Top-rated by GreatNonprofits in 2010, many visitors echo this comment:
"Wolf Trap rocks. From its stellar performing arts spaces — both the Filene Center and the Barns — to its arts education — it offers outstanding entertainment and growth. I've seen first hand how their arts program connects with disadvantaged youth. Their programs with local teachers provide needed support, resulting in unique activities geared toward students in need."
CULTURAL HERITAGE IN THE SOUTH

New Orleans, LA : Tipitina's and Tipitina's Foundation
Tipitina's Foundation supports Louisiana and New Orleans' irreplaceable music community and preserves the state's unique musical cultures. The foundation grew out of the Tipitina's music venue, a revered New Orleans cultural icon that continues to be instrumental in developing and promoting Louisiana music around the world.  Tipitina's has always celebrated and supported Louisiana music and culture through a variety of community-based projects including:
Instruments A Comin': An annual band instrument fundraiser
Sunday Youth Music Workshops: An ongoing series of workshops where students of all ages play and learn with some of the region's best musicians on the legendary stage at Tipitina's Uptown club.
What they're saying
GreatNonprofits has collected glowing reviews of this organization, including this one:
"One of the best Foundations in the city of New Orleans, if not the country. Tips has done more for the betterment of the music community than any celebrity or large corporation could dream of doing. The best part is that they give back to music professional and kids, providing uniforms and instruments alike."
CULTURAL HERITAGE IN THE MIDWEST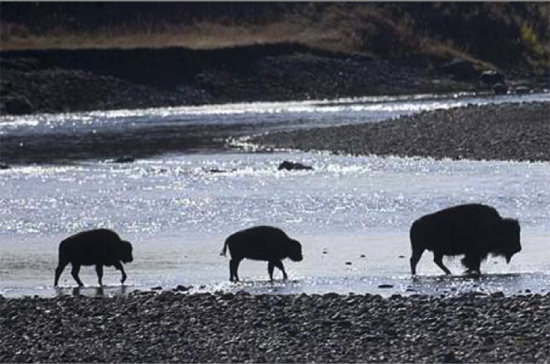 West Yellowstone, MT: Buffalo Field Campaign
The Buffalo Field Campaign (BFC) is the only group living and working in the area surrounding Yellowstone full time. This group is dedicated to protecting Yellowstone's bison 365 days a year. Each season brings its own unique weather, beauty and needs for BFC's base of operations near Hebgen Lake just outside West Yellowstone, Montana. Volunteers are the backbone of the organization, patrolling activities involving buffalo from cars, skis, and snowshoes. Over 3,000 people have volunteered over the years, a group that includes local residents and visitors from around the world.
What they're saying
BFC was top-rated by GreatNonprofits in 2012. Here's one comment that echoes the thoughts of many others:
"The Buffalo Field Campaign is the ONLY group out there in the field every day working to save what's left of the only original American bison herd left, the Yellowstone bison. Though a shoestring organization, they have been working for years against the cattle lobby and the other forces that seek to destroy these American icons. Hazing, capture, slaughter…this is what the bison face, this is what this organization fights against."
CULTURAL HERITAGE IN THE WEST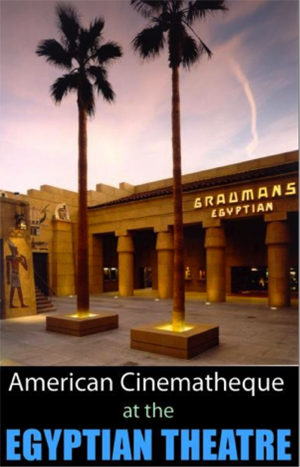 Los Angeles, CA: American Cinematheque and the Egyptian Theatre
Located in the filmmaking capital of the world, American Cinematheque, is a viewer-supported cultural organization, committed "to the public presentation of the Moving Picture in all its forms." It hosts numerous film festivals, seminars, and other public programs at the theater, including monthly guided tours of the space. It screens documentaries, independent films, and classic film revivals alike.
The home of American Cinematic is the Egyptian Theatre, built by the legendary Sid Grauman, which opened in 1922 as the first major movie theatre in Hollywood. For decades, the theater brought films like The Ten Commandments, Ben-Hur, and South Pacific to the silver screen. But throughout the 1980s and early 1990s, the theater, much like its surrounding neighborhood, had fallen to a state of decline. Its doors finally closed in 1992. Four years later, the nonprofit American Cinematheque purchased the theater (designated a Los Angeles Historic-Cultural Landmark in 1993) from the city for a nominal sum of $1 — on the condition that the landmark theater would be restored and returned to a movie theater.
What they're saying
It's no surprise that American Cinematheque was top-rated by GreatNonprofits in 2011. One supporter says:
"The Egyptian Theater is one of THE best hidden secrets in Hollywood. If you haven't experienced it … find a show you want to see, and come. Or better yet, pick one with live people from the movie who are there, who do a 20-30 min Q and A after. It's all time fantastic. Don't miss it."

(Image courtesy of Stacy Carter)
San Francisco, CA: Hunters Point Shipyard and Shipyard Trust for the Arts (STAR)
STAR is dedicated to conserving affordable San Francisco art studios and workspace, supporting Bayview/Hunters Point community art programs, and creating educational and exhibition opportunities.
The artists at Hunters Point Shipyard form the largest group of independent studios in the United States. For over two decades, tens of thousands of people have visited Hunters Point open studios to enjoy this unique treasure. STAR has successfully created a permanent place within the shipyard that will benefit future generations of artists and the general public. STAR looks forward to establishing stronger ties to community and government leaders to achieve the common vision of transforming the shipyard into a more dynamic and diverse part of the City.
What they're saying
Here's what one supporter says:
"I am a professional artist at Hunters Point Shipyard. We are a collective group of over 300 artists working at the shipyard since 1986. The Shipyard Trust for the Arts (STAR) is our board that has labored to insure our continued presence there, integrate with the community by sponsoring an artist in residence from the neighborhood, help coordinate our Fall and Spring Open Studios, work with the City of San Francisco and the redevelopment agency as well as the Developers Lenar to insure legal and appropriate disposal of asbestos and other toxins present on the Naval Shipyard. This is a volunteer board and work tirelessly to support and sustain the arts and artists in Hunters Point Naval Shipyard."
Learn more about these special places.  Be sure to read the reviews of these cultural institutions, parks, and open spaces on GreatNonprofits.
—–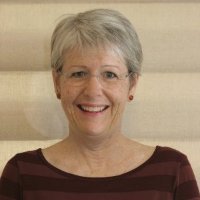 Special thanks to our contributing writer, Kathryn Maclaury for her work on this article.