Inspiration Break: Jim Doty, Neurosurgeon, on Why Compassion is Important.
Inspiration Break: A series of interviews with Nonprofits thought leaders.
Growing up in the high desert of California, Jim Doty was poor, with an alcoholic father and a mother chronically depressed and paralyzed by a stroke. Today he is a clinical professor in the Department of Neurosurgery at Stanford University and the director of the Center for Compassion and Altruism Research and Education at Stanford University School of Medicine, of which the Dalai Lama is a founding benefactor.  He is the author of the upcoming book Into the Magic Shop.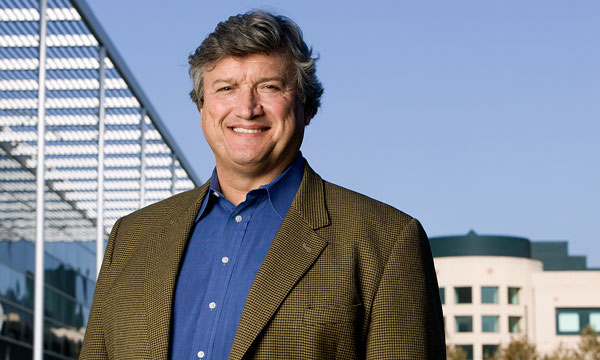 You've given away most of the money you've made from your success in business.  How did that feel?   
Actually, I gave away 99% of the wealth I obtained….tens of millions of dollars. While that decision in retrospect was rash and, honestly, I could have spent it more wisely in some cases, the profound positive aspects of that decision is such that I would not have changed anything.
Has the technology and the internet increased or lessened people's compassion?
Presently, I think for many it has lessened it. We have created an environment where people can anonymously criticize without consequence. That being said, many in the tech world recognized the problem and a significant amount of energy and effort is being put forth to use technology to strengthen connections and be supportive.
Is there a shortcut way to developing more compassion?
When one recognizes the power of compassion, not only in regard to its impact on others, but as importantly on oneself in terms of giving meaning to life and enhancing one's health and well-being. When one incorporates compassion as an intention, it has more of a positive effect on one's health than being at your ideal body weight or exercise.
You are a brain surgeon, inventor, and philanthropist.  What led you to study compassion?
Who we are is using a manifestation of where we have been. As you know, I grew up in poverty with a father who was an alcoholic and a mother with mental illness. I would not be here today without the kindness of so many, but in my journey I saw people who had the means, resources, position to intervene to alleviate suffering and did nothing…and who were miserable people. Conversely, I was helped by so many who really had nothing but shared it and often they were the happiest of people. This paradox intrigued me, and also understanding how does one benefit personally by caring or being of service. Ultimately, I found the benefit was profound on many levels.
How would you advise a company, say Uber, on how they can be a more compassionate company?  
Regardless of the company, all have employees and those employees want to be happy and have lives of meaning. Individuals are happy when they are in an environment in which there is openness, trust, communication, respect and empowerment. This is not to imply that sometimes difficult decisions, business decisions, have to be made that can have a negative impact such as being terminated. But in a company that is truly compassionate, thought is given at every level as to how to honestly communicate and how to make decisions in such a way to that employees can understand and accept them. And those employees who are negatively affected are dealt with in a supportive fashion.
What is the most important thing that parents can do to raise a compassionate child?
Be role models. If you are selfish, manipulative, and ruthless, then these behaviors are modeled by your children. I have met parents who could be described as type A and driven and define success in their children by a grade or success in beating someone else. While supporting a child to reach their true potential is wonderful, when success to parents are external markers and not acceptance of who they wish to be, or recognizing success is the development of character and values, then children will do actions to reach those markers regardless of what it takes to get there be it cutting corners or cheating because it not how you got there that matters. And sadly, when a child in that environment can't perform at the expected level, depression and despair follow and, as we have seen, can result in suicide.
How can compassion be most rapidly spread?
By acting compassionately with intention, a rippling effect occurs that results in those around you acting more compassionately themselves. One has the power to turn the ripples into a tsunami of compassion.
Who is your favorite hero of fiction?
Sherlock Holmes.
Who are your heroes in real life?
There are so many it is hard to name one but certainly individuals such as the Dalai Lama, Desmond Tutu and Amma immediately come to mind. That being said, although my parents struggled themselves in many ways, they always gave me love and I see them as my heroes as well. And there is a woman named Ruth who I met at 12 in a magic shop who took the time to see who I really was and changed my worldview from one of limited to no possibilities, to one of unlimited possibilities, and fundamentally changed the trajectory of my life. In my forthcoming book, Into the Magic Shop: A Neurosurgeon's Quest to Discover the Mysteries of the Brain and the Secrets of the Heart, Ruth plays a significant role.
What is your motto?
There is always time for kindness.
How does it feel to have the Dalai Lama endorse your book?
Having the Dalai Lama, who is for many one of the greatest human beings living, take the time to endorse my book is extraordinary and I have been blessed to count him as my friend. But I am also overwhelmed that other heroes of mine including Thich Nhat Hahn, Amma, Sri Sri Ravi Shankar and a number of others have done so as well. I am truly blessed and have immense gratitude that so many have embraced the words that I have written.
Keep your eye out for more inspiration breaks and tell us who you'd like to hear from next!