How to Create a Fundraiser on the GreatNonprofits Website in 5 Steps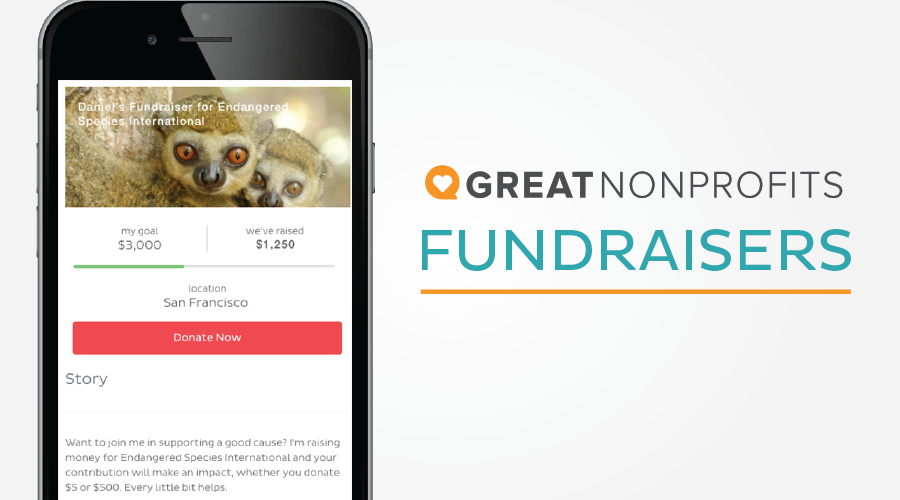 Set a nonprofit you support on the path to success with a GreatNonprofits Fundraiser. Did you know that one-third of all online donations come from peer-to-peer fundraisers? GreatNonprofits Fundraisers let you amplify the impact of your story into a fundraising campaign that makes a meaningful impact for your favorite nonprofit.
Start by sharing a story of your experience with the organization that you want to raise money for. If you have an existing review for them and have access to your GNP account, you can skip this step by: logging into your account, going to "My Reviews," finding the story, and clicking on "Create Fundraiser."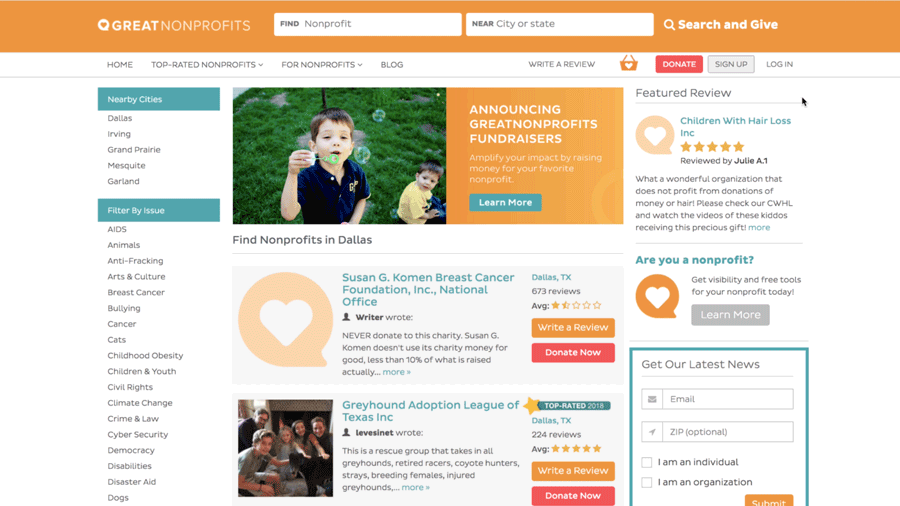 If you haven't posted a review for the organization that you want to fundraise for, we'll walk you through that process.
Step 1: Search for the Nonprofit and Post Your Review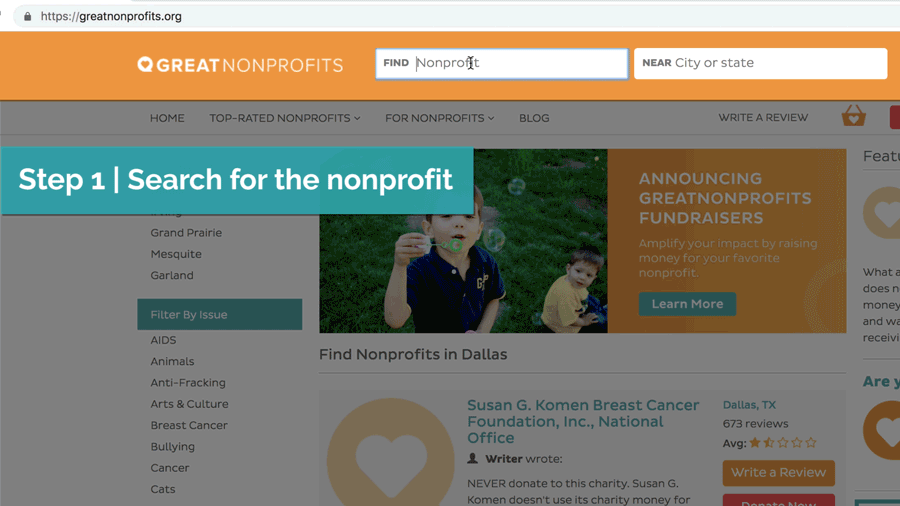 Navigate to the search bar at the top of the page to find the nonprofit you want to raise money for. Click on "Share Your Story." Rate the nonprofit and write about your experience with it. You can add some pictures to make it more appealing! Choose your role and click on the "Post Review" button.
Step 2: Create a GNP Account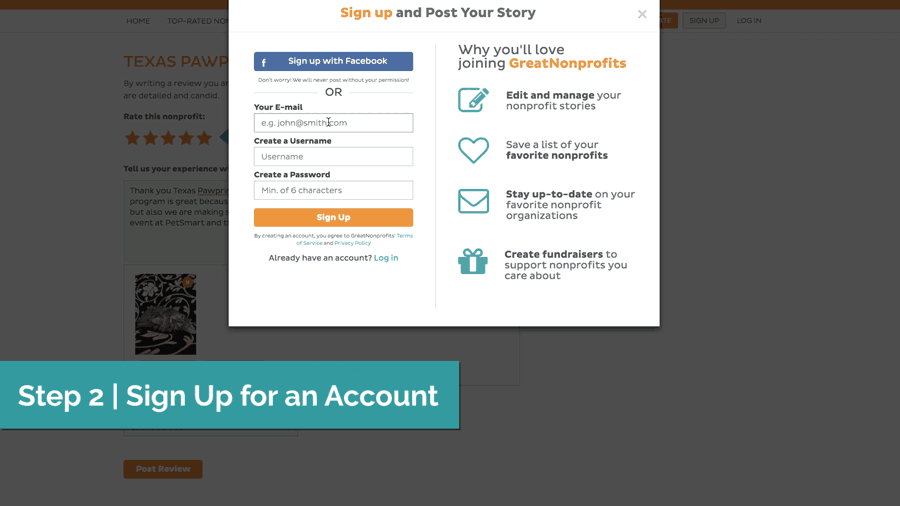 When you click on "Post Review," you'll see this pop-up prompting you to sign up for an account. Enter your email, and create an username and password. You can also sign up with your Facebook account if you have one.
Step 3: Create Fundraiser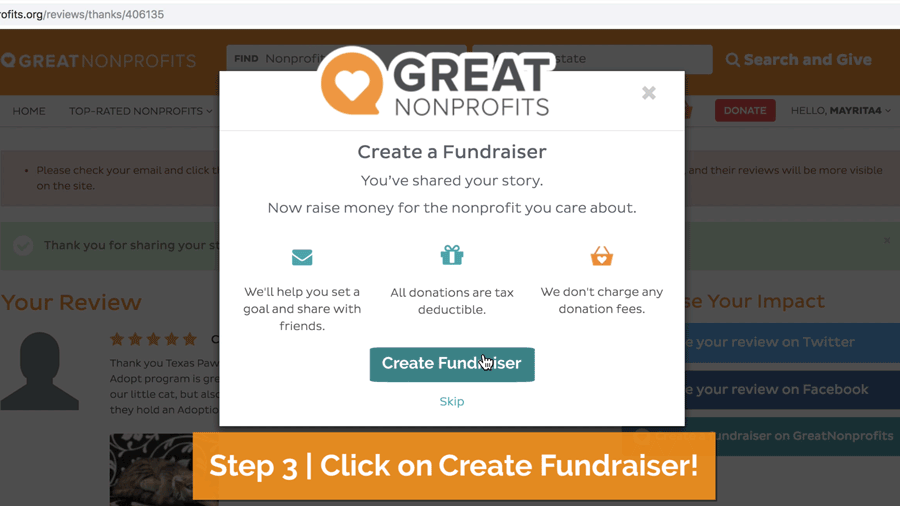 Click on "Create Fundraiser" and we'll automatically populate the fundraiser with your story. You can easily edit the title, set your goal and end date, and change the picture if you'd like. You can always go back and edit this information. Now click on "Publish Fundraiser."
Step 4: Share – Every Share Raises $43 on Average!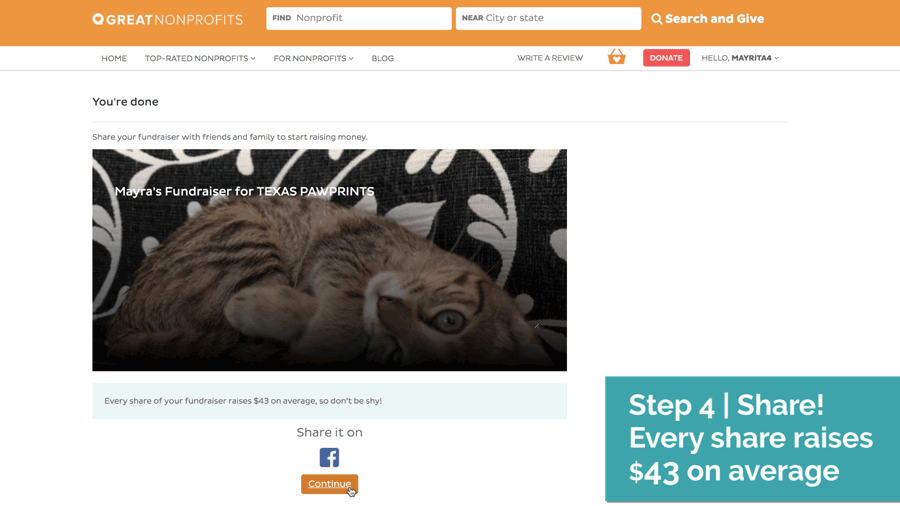 Sharing your fundraiser on Facebook, Twitter, or via email is the key to success. Every share raises $43 on average. That means more money to help your favorite nonprofit achieve its important mission!
Step 5: See How Much You Raised and Thank Donors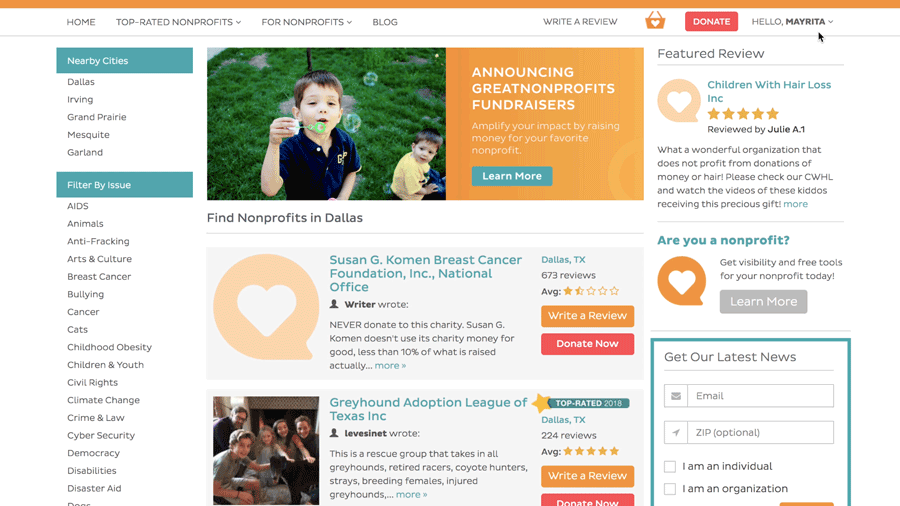 Fundraising doesn't stop once you've shared. You can easily access your Fundraiser Dashboard by hovering over the "Hello, Username" on the top right corner and clicking on "My Page." Navigate to "My Personal Fundraisers" and voila!
Your dashboard allows you to track progress toward your donation goal and send Thank You emails to your donors. You can also edit the information on your live fundraiser page, and have easy access to buttons for more sharing.
And now you're all done. Happy Fundraising!
To watch full video tutorial, visit: https://youtu.be/CHW_blJJg-o