Changes with You in Mind
By now, you've fought the crowds on Black Friday and worked your fingers to the bone on Cyber Monday, sneakily ordering holiday presents while your boss wasn't looking. But there are still others hoping to receive a gift from you, one that will enable them to continue their great work of improving people's lives.
Since 2012, the giving season for nonprofits that runs through the holidays until the end of the year has officially kicked off on the Tuesday after Thanksgiving—Giving Tuesday. Perhaps you were one of the donors whose generosity contributed to the $168 million raised this past Nov. 29, a 44 percent increase over last year's Giving Tuesday total. But if you haven't made your contributions yet—or you have and still want to do more—GreatNonprofits has worked hard to make your experience as easy as possible.
Constantly Evolving
Since 2008, GreatNonprofits has been the leading platform for community-sourced stories about nonprofits, stories submitted by those who know the nonprofit best—clients, donors, and volunteers. And our team of graphic designers and engineers are constantly striving to make the user experience as fun as possible.
And with that in mind we've recently launched a brand-new, more visually appealing page layout that's sure to help a nonprofit's profile capture attention. If a picture truly says a thousand words, then nonprofits will be able to tell a much more compelling story with the now-larger photos prominently displayed at the top of the profile.
Our testimonials are also now in easy-to-read columns and displayed in their entirety—no longer just a snippet and needing to click a "read more" link to see the whole story. And it's easy to start the process of leaving your own thoughts with the "Share Your Story" button at the top of the page.
Giving Made Easy
These change are of course made with our ultimate goal in mind: To make sure that all the great nonprofits out there receive the attention—and donations—they deserve.
And on that note, we are proud to announce that we've streamlined the donation process with our new easy-to-use Giving Basket feature. After researching which organizations you'd like to contribute to, simply locate the large aqua blue "Donate" button conveniently located at the top of the page, as well as in the right nav. Upon clicking, you'll see an overlay with the option to donate $25, $50, $100, $250, or "other."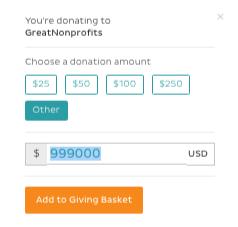 Upon choosing the amount, simply click the "Add to Giving Basket" button to either give at that moment. . .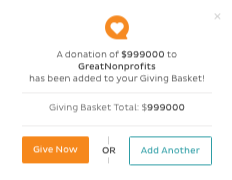 . . . Or add additional nonprofits to your basket if you are feeling particularly generous that day!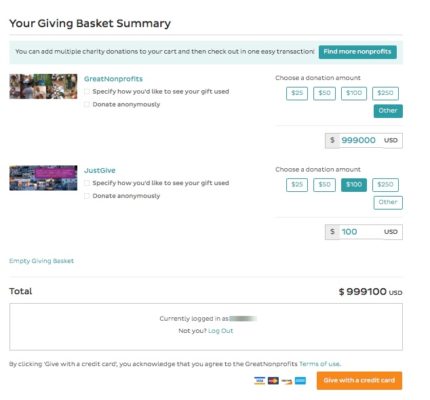 In the past, GreatNonprofits users would have to make a separate transaction for each nonprofit they wished to contribute to. But with the Giving Basket, you can donate to multiple organizations in one easy transaction!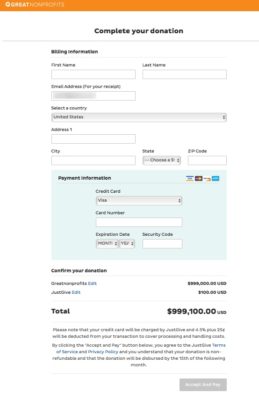 Thanks to the Giving Basket, making the world a better place has never been easier! It's quick, efficient, and, best of all, simple to use, so log in right now and make this holiday season—and beyond­—a great one for your favorite organizations!