Special Offer: Shop for Good this Valentine's Day
Are you, or your significant other, looking for something unique this Valentine's Day? Flowers and chocolate are great, but you can also go beyond this year and shop for good.
When you shop for good, your dollars don't just go into a large business's piggy bank—they go toward creating livelihoods for underprivileged people around the world. You shop. You do good. It's as simple as that!
This year, we've sweetened the deal by partnering with three shop-for-good organizations to offer discounts just for our blog readers. Now you or your S.O. can give the perfect gift while giving others a better life AND still saving money. Check out the world-changing organizations below and start shopping!
15% off Elegantees
Code: GNP15
Instagram: @elegantees
Twitter: @elegantees
Facebook: https://www.facebook.com/elegantees
Elegantees is an organization that works "To provide hope to survivors of sex trafficking in Nepal. A positive source of income that reinforces independence, a healthy self-image, and confidence, restores lives one elegant tee at a time."
When spent on Elegantees, your dollars will quite literally provide jobs for women brought out of sex trafficking. The company employs women in Nepal in its sewing center who create the beautiful clothes that it sells.
This adorable ruffled tee looks amazingly soft and comfortable. A perfect choice for when you'd rather be wearing your PJs but you have to actually go out in public.
Two words—fringed tunic. Two things that have been trending for a while now, and aren't going anywhere soon. Match this with leggings and ankle boots to make a cute dinner-out outfit.
20% off Sandra Cadavid
Code: LoveGreatNonprofits
Facebook: https://www.facebook.com/sandracadaviddesign
Twitter: @s_cadavid
Contact: yuling@sandracadavid.com
Contact: sandra@sandracadavid.com
Sandra Cadavid is a luxury handbag and jewelry company that sources all its materials directly from Columbia, the founder's home country. The company also hires women in Columbia who have been victims of violence and are unable to find work. Additionally, they support nonprofits whose causes they believe in.
Along with giving 20% off to our readers, they are also generously offering 10% of sales using the code to Great Nonprofits. Thank you, Sandra Cadavid!
This gorgeous leather crossbody bag has 24 karat gold plated hardware. The color goes with practically everything, and the classic shape will never go out of style.

This dainty, understated necklace follows the minimalist look perfectly. It's a gorgeous, safe bet for someone who is picky about what jewelry they wear. It comes in 24 karat plated gold, rose gold and sterling silver.
25% off Serengetee

Code: GREATNON
Facebook: https://www.facebook.com/Serengetee
Twitter: @Serengetee
Serengetee's mission is to "support artisans and causes around the world." This organization purchases its fabrics from all over the world—25 countries to be exact—to help local artisans and their communities grow in sustainability. They also give back 10% of profits to various grassroots causes.
In addition to sourcing fabrics directly from worldwide artisans, they also ensure that all their products are handmade in Los Angeles. Hooray for ethical, responsible business practices!
The Albuquerque fabric on the crop sweater is an edgy combination – great for pairing with high-waisted jeans and sneakers.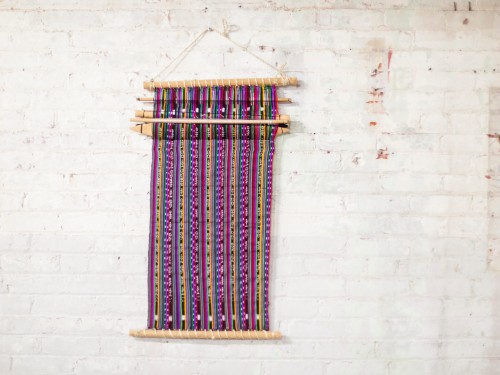 This stunning wall-hanging is a loom, handwoven with fabric sourced from Guatemala, by a woman named Rosa and her mother, who live in the hills of Pena Blanca, New Mexico. Gifts don't get much more unique than that.
Take advantage of these discounts and buy a meaningful, ethical gift for Valentine's Day this year. It's a simple way to make life better for those less privileged, while enjoying a special, handcrafted product. Everybody wins!