Mother's Day Gift Guide
Mother's day is right around the corner on May 10th and it's the perfect time to thank those women who've made an impact on your life, no matter how large or small. If you're still on the lookout for a gift, don't worry about it; we've got you covered. We gathered up a list of gifts that everyone can feel good about. Not only will your mom love it, but you'll feel great knowing that your purchase was able to help a nonprofit organization too.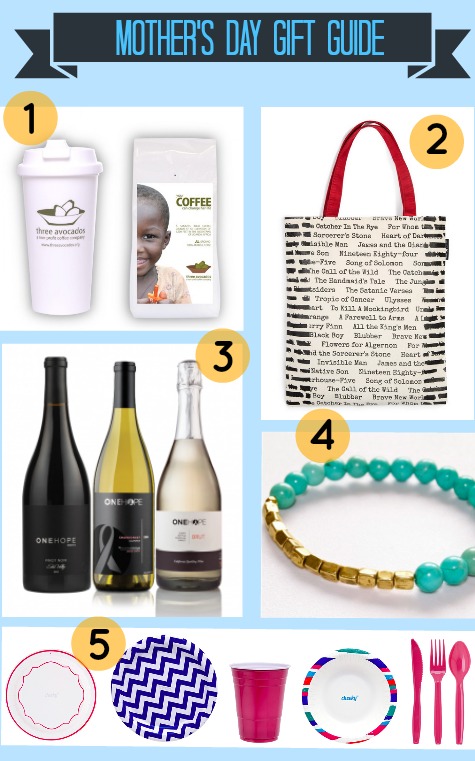 You can never have enough travel mugs. Or coffee. This coffee and travel mug set is the perfect gift for the coffee-lover in your life. These mugs and coffee beans benefit a clean-water initiative in Uganda through Three Avocados. Each purchase provides a donation towards clean drinking water and for every four bags of beans sold an individual will receive clean water for life.
A great way to cut down on waste is to use cloth bags while shopping. These adorable tote bags are the perfect shopping accessory for the mom on-the-go. They feature a classic book image or literary design and have enough room to hold anything her heart desires. For each product purchased through Out of Print Clothing, a book will be given to a community in need through their Books for Africa program.
What mom doesn't love a glass of wine now and then? Purchase any bottle of ONEHOPE Wine produced by Michael Mondavi Junior and half of the proceeds will go to the charity of your, or your mother's, choosing. There is a wide variety of wine to choose from and many different organizations, as well.
For the fashionable mother in your life this turquoise and gold bracelet is the perfect gift. The turquoise beads are perfect to add a pop of color to any ensemble. This bracelet can be worn on it's own or with other bracelets for a fresh new look. This particular bracelet is associated with the Sisi Fund, which will be given 15% of the profits, to help fund microloans and financial training for widowed women that are rebuilding their lives through entrepreneurship in Kenya.
Perfect for your own gathering, yet cute enough to gift; Cheeky tableware will take any party up a notch. With it's bright, fun colors and designs it's hard to not find a pattern to go with your next party. When a product is purchased an American facing hunger will receive a meal through the Feeding America organization.